Last week, on March 27, 2015, an accident involving an eighteen-wheeler tanker truck and a Chevrolet sedan caused the Ravenel Bridge to be shut down for nine hours. A 31-year old woman, who was driving the Chevy sedan, caused the accident. The sedan swerved into the left lane to avoid hitting a disabled vehicle located on the right side of the road. The woman veered across two lanes of travel and sideswiped an eighteen-wheeler tanker truck. The woman was trapped in her car and she had to be freed by the fire department. She was transported to MUSC for further treatment.
The tanker truck was carrying 7,800 gallons of diesel fuel. The accident caused damage to some of the tanker's valves. As a result of the accident, the tanker leaked 300 gallons of fuel onto the bridge. It is unknown how much fuel leaked off of the bridge and into the Cooper River below. Hazmat crews and the U.S. Coast Guard were called in to help manage the pollution from the spill. The clean-up process took nine hours. Clean-up crews were battling heat exhaustion and had to work in shifts in order to clean up the spill.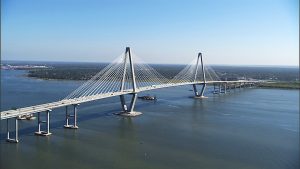 The Arthur Ravenel, Jr. Bridge is part of South Carolina's Highway 17 and U.S. Interstate 26. It connects the City of Charleston with Mt. Pleasant. The Ravenel Bridge has become a major symbol and icon for the Charleston area and it is also a major commuter route for traffic going in and out of the city. More than 75,000 cars cross the bridge daily.
Tractor-trailers and 18-wheelers, fill our nation's highways, but sharing the road with these vehicles can carry substantial risks for drivers. The size and power of these vehicles can cause truck accident to have traumatizing repercussions. When a truck is carrying hazardous or flammable materials, like Diesel fuel, the damage and injuries from an accident are often magnified even more. In fact, truck accident victims often face consequences ranging from broken bones to permanent brain damage, and in the most extreme circumstances sometimes even wrongful death.
We are South Carolina's Truck Accident lawyers. If you or a loved one has been injured in a trucking accident, then contact the Goings Law Firm, LLC today. With the help of an experienced truck accident attorney, you may be able to better hold the party responsible for the truck accident that harmed you or your loved one and get the justice you need. Call us at (803) 350-9230 today to talk about your case and learn more about what we can do for you.