Car Accidents Lawyers in Columbia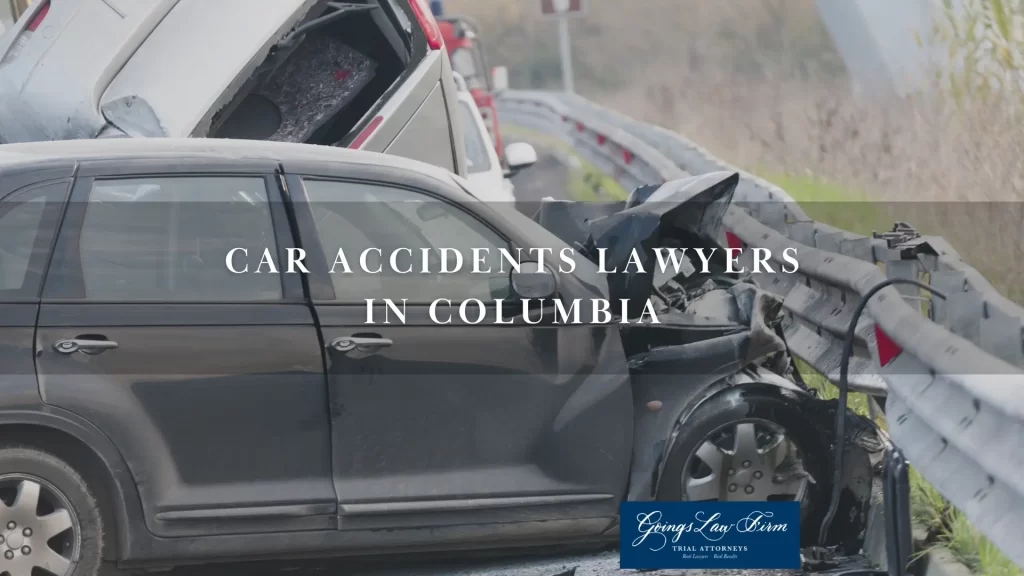 If you have been injured in a serious car accident, contact the Columbia personal injury attorneys at Goings Law Firm, LLC to schedule a free initial consultation!
Anyone who lives in South Carolina knows that our state does not have the safest roads. South Carolina is consistently ranked in the ten most dangerous states in which to drive because of the high rate of roadway fatalities, especially on rural roads. Even so, personal vehicles are still the most common form of transportation. Our cars are an absolute necessity that helps us visit friends and family, go grocery shopping, and commute to work. Unfortunately, with so many people out on the road, accidents are bound to happen.
Some accidents are not anyone's fault. Drivers are injured every day even when they are following traffic laws and doing their best to drive safely. Weather conditions, such as fog, rain, or animals on the road can all cause accidents. However, many more accidents are completely preventable and caused by the reckless or negligent actions of drivers who do not take care to drive safely. If your car accident resulted from the careless actions of another driver, you may be entitled to compensation for your injuries and property damage. Contact the Goings Law Firm, LLC to learn how a Columbia car accident attorney can help you win the money you need following your accident.
Car Accident Practice Areas
With so many people on the road at any given time, there are many ways an accident can occur. The possibility for distraction while driving, biking, and walking is higher than ever, which can make staying safe seem difficult. It takes only one driver to look down at a cell phone and lose focus to cause an accident. When carelessness strikes, a qualified car accident lawyer can help you hold other drivers accountable. At the Goings Law Firm, LLC, we have experience handling the following cases:
Our attorneys believe that one fatality caused by a reckless driver is too many. South Carolina has a greater percentage of road deaths than most states, the majority of which are caused by driving under the influence and driving too fast for the current conditions. These are preventable causes that we can work together to end by forcing drivers to take responsibility for their actions.
South Carolina Car Accident Statistics
Car accidents happen despite the precautions you might take to keep yourself safe. Although you wear your seatbelt, keep your phone out of reach, and diligently scan the road ahead, a careless driver can cross your path. Preventing a crash is nearly impossible if you encounter someone running a red light or swerving into your lane.
According to the South Carolina Department of Public Safety, 2020 edition, traffic accidents are common across the state, with one occurring every 4.3 minutes during one year. One person sustained an injury every eleven minutes, while one person died every 8.2 hours. The number of fatalities from the year before increased to 1,066, representing a six percent change.
The primary contributing factor in all injury collisions were:
Medical related factor – 615 accidents
Distraction or inattention – 1,666 accidents
Exceeded the authorized speed limit – 151 accidents
Fatigued or fell asleep – 175 accidents
Followed another vehicle too closely – 1,695 accidents
Made an improper turn – 406 accidents
Operating the vehicle aggressively – 477 accidents
Oversteering or overcorrecting – 76 accidents
Swerving to avoid an object – 104 accidents
Ran off the road – 567 accidents
Failed to yield the right of way – 7,817 accidents
Driving the wrong way or on the wrong side of the road – 674 accidents
Another improper action by the driver – 794 accidents
Driving under the influence – 2,317 accidents
Vision obscured within the unit – 23 accidents
Disregarded signals, signs, etc. – 2,413 accidents
Improper lane change or usage – 1,372 accidents
Using a cell phone – 23 accidents
Driving too fast for conditions – 9,246 accidents
Texting while driving – 27 accidents
Unknown factor – 538 accidents
In all fatal collisions, drivers who drove under the influence were the number one contributing factor.
Drivers can cause car wrecks all too easily. Their poor decisions and careless actions increase the risk of a crash and endanger others' lives. Some of the notable characteristics of South Carolina drivers involved in traffic accidents in a single year include:
Males accounted for 72 percent of drivers involved in fatal collisions, while females only represented 24.7 percent.
Males between 20 and 24 accounted for 6.8 percent of those drivers of all fatal traffic collisions.
Female drivers accounted for 3 percent of all drivers involved in fatal car crashes.
Of all primary contributing factors leading to accidents, 94 percent were driver-related.
The time of day was a significant factor in evaluating the frequency of accidents throughout the state. The number of traffic crashes by time of day was:
12:01 a.m. to 3:00 a.m. – 5,668
3:01 a.m. to 6:00 a.m. – 4,525
6:01 a.m. to 9:00 a.m. – 13,680
9:01 a.m. to noon – 15,795
12:01 p.m. to 3:00 p.m. – 24,374
3:01 p.m. to 6:00 p.m. – 29,509
6:01 p.m. to 9 p.m. – 18,156
9:01 p.m. to midnight – 9,528
These statistics show the dangers that exist on South Carolina roads. You can protect yourself and others from harm by staying alert at the wheel. If you get hurt in a car crash due to someone else's negligence, contact Goings Law Firm, LLC immediately. We can review your case and determine whether we can represent you.
Most Common Types of Car Accidents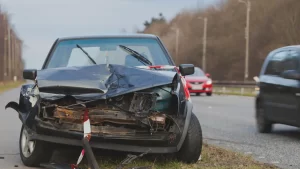 In South Carolina, three of the most common ways people are injured in car accidents include those caused by driving under the influence, driving too fast for conditions, and failing to yield the right of way. As such, these are the types of cases our attorneys are most likely to take. We have obtained millions of dollars throughout our careers for drivers just like you: people who were following all traffic laws and ended up injured. Below are further explanations of the accidents for which we can seek compensation.
Drunk Driving Accidents
When a driver gets behind the wheel, they owe it to their fellow citizens to be of sound mind. This level of competence is impossible if someone is driving while under the influence of drugs or alcohol. Driving while intoxicated is more common on rural roads, which account for most of the miles driven in South Carolina. Intoxication negatively impacts your motor skills, reaction time, and the quality of your judgment. All of these skills are necessary for driving, so accidents are far more likely to occur when a driver is under the influence. If you suspect you were injured by an intoxicated driver, we can look to the police report, field and sobriety tests, and witness testimony to make your case for damages.
Driving too Fast for Conditions
Speeding is often overlooked as the primary cause of an accident, but 17,376 people were injured by people driving too fast for conditions in 2015, more than any other cause. When someone is speeding, they do not have the maximum control possible over their vehicle, meaning they are more likely to lose control and exit the roadway or cause a collision. Driving too fast for conditions covers drivers who were perhaps going the speed limit but not accounting for other conditions, such as rain, snow, fog, or darkness. Visiting the scene of the accident can tell us a lot about how someone was driving at the time of the accident, which can help your case.
Failure to Observe Traffic Laws
Between disregarding traffic signs, failing to yield the right of way, and changing lanes improperly, thousands of injuries are caused by the failure to observe basic traffic laws. Drivers have a commitment to one another when on the road to signal their actions, account for other vehicles, and follow all traffic laws. When a driver is negligent and fails to perform these basic actions, they should be held accountable for the damages they caused. Typically, a police report will say whether there was a traffic violation related to the accident. We can speak with the insurance company of the other driver, obtain records and evidence, and examine the police report to prove the other driver caused your injuries due to negligence.
Frequently Asked Questions
After an accident, most drivers who come into our offices feel overwhelmed and unsure of where to begin when seeking compensation. To get you started, here are the answers to some of the questions we hear the most often.
How much is my case worth?
No attorney can answer this question without knowing the details of your case. Numerous factors go into deciding how much compensation a car accident victim will receive as a result of the accident. Some of the factors that can influence the amount of money your case will receive are the type of accident you were in, whether you were at fault, the severity of the injuries you sustained, and whether the other driver was under the influence. Without knowing how these factors affected your accident, it is impossible to say how much your case is worth without speaking to an attorney.
Why should I seek compensation?
At the Goings Law Firm, LLC, we believe in justice and fairness. Someone was unjust towards you by causing an accident, so it is only fair that you receive the compensation you need to move forward. The money we obtain for you could be used to cover medical bills, property damage, and any income you lost if you could not go to work. Receiving what you are owed can mean the difference between struggling and not, and we want you to feel good about your financial and personal situation. Going through an accident is tough, but compensation can help to stabilize your position.
Why choose the Goings Law Firm, LLC?
The attorneys at the Goings Law Firm, LLC understand how devastating an accident can be. A serious personal injury case can reach into every aspect of your life. Our lawyers are South Carolinians just like you who want to make our state a great place to live. That includes acting with kindness and taking care of our own. If you were hurt in an accident, we guarantee you will receive the respect and personal attention required to get your case as far as possible.
What Should I Do if I Was Involved in a Car Accident?
In the immediate aftermath of an accident, especially if you believe you were injured, you might find yourself in a state of panic. You may be thinking about what you need to do, who you should talk to, and what you should and shouldn't say. Until you can contact a lawyer, it is usually best to avoid all but the most critical discussions concerning any injuries you may have sustained. Nonetheless, there are a number of specific actions you should and should not do in immediately following an accident.
What To Do
Seek medical attention as soon as possible.
Ensure that you cooperate with law enforcement and emergency services once they arrive, and do not leave the scene until you are cleared to do so.
Make sure that you collect the contact and insurance information of all parties involved, if possible.
If you are able to, always take pictures of the accident scene, surrounding area, and any personal injuries or property damage.
Contact your insurance company as soon as possible to get an evaluation of your claim.
Contact an attorney as soon as possible to discuss your case and receive guidance on the insurance process.
What NOT To Do
Do not leave the scene of an accident until told to do so.
Do not admit fault or even engage in a discussion of who was at fault in the accident.
Do not discard any evidence, such as car parts or clothes that may have been damaged in the accident, until the case is over.
If you are able to move, do not remain in an area that could put you at further risk for an injury.
By cooperating with law enforcement and emergency services as well as filing your insurance claim as soon as possible, you are putting yourself in a better position to have a favorable outcome in your case. Importantly, you must never admit fault in the preliminary stages of the case, even if you partially contributed to the crash. Even a simple "I'm sorry" at the scene of the accident can be considered admissible evidence of your guilt during a settlement or in court.
The dedicated Columbia area car accident lawyers of Goings Law Firm, LLC are here to help you navigate the insurance process and hold reckless and irresponsible drivers accountable for their actions. Keep in mind that the statute of limitations on most personal injury cases in South Carolina is three years from the accident date, so it is in your best interest to speak with an attorney as soon as possible following an accident.
Speak with a Car Accident Attorney in Columbia, South Carolina
Following your accident, hiring an attorney to help you seek compensation is probably the last thing on your mind. We understand this, which is why we want you to focus on recovering while we make sure you are treated fairly by the insurance companies. If you have any questions or are ready to fight for the money you deserve, contact the Goings Law Firm, LLC by calling (803) 350-9230 today.