Columbia Motorcycle Accident Lawyers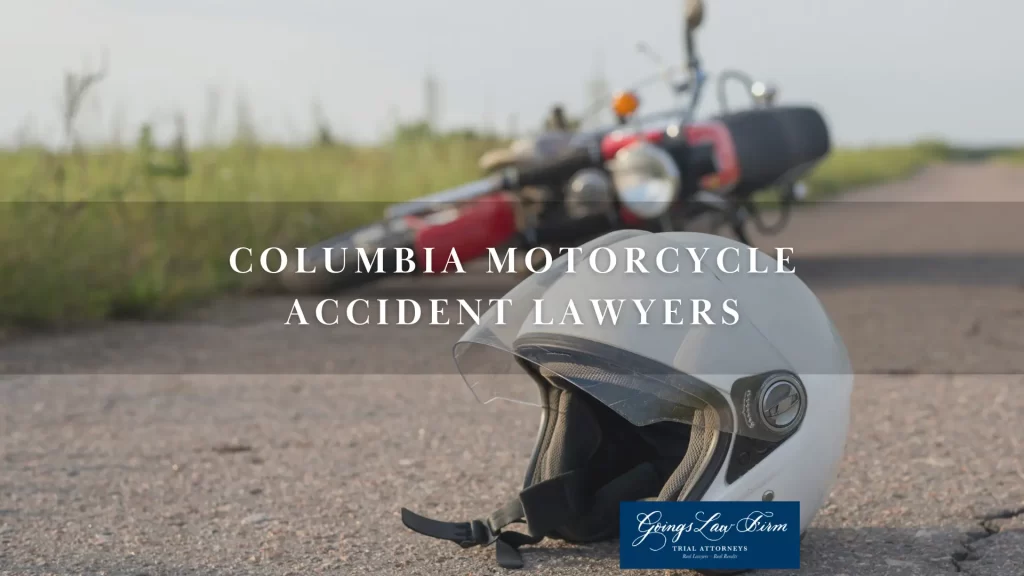 Were you injured in a motorcycle accident in Columbia, SC? Contact the injury attorneys of Goings Law Firm, LLC today to schedule a consultation.
All motorcyclists share the road with automobiles and truck drivers and are entitled to the same rights on the road as any other vehicle. It is known that a collision involving a motorcycle is an extremely dangerous accident, and many of these collisions result in severe injury to the rider. With very little to protect the motorcyclist from any ongoing vehicle, the motorcyclist is especially vulnerable to a potential injury in the event of a collision.
In addition to the enormous size difference between a motorcycle and cars and trucks, the motorcycle exposes the driver to the elements, and there are not a lot of safety features. Although the motorcyclist may be wearing protective gear and a helmet, the driver still has very little to protect him/her from harm if they are involved in a crash with a larger vehicle. Motorcyclists are often exposed to severe or even life-threatening risks when they are involved in an accident with another car or stationary object. Many fatalities in bike accidents are due to head injuries or traumatic brain injury. Further, motorcyclists often deal with common injuries such as broken bones, and leg, knee, foot, and arm trauma.
Were you hurt in a motorcycle accident? Whenever a motorcyclist suffers injuries in an accident for which someone else may have been at fault, it may be possible for them to recover compensation for their injuries. The best thing that you can do after receiving medical attention is to contact an experienced attorney.
If you have been injured in a motorcycle accident in Columbia or South Carolina, the legal team at the Goings Law Firm, LLC will work to assist motorcycle accident victims and fight for the compensation they need.
Goings Law Firm, LLC is uniquely qualified to assist you, as Robert F. Goings knows the values that are important to the people of Columbia. Growing up on his family's farm in South Carolina, Mr. Goings learned that fairness, hard work, honesty, and service to others are essential, and his firm is centered on these values. Protecting the interests of South Carolinians is what we do. The firm is dedicated to handling all matters related to your accident case, and we will fight for justice on your behalf. If you or someone you love has been hurt in a motorcycle accident, contact the Goings Law Firm, LLC for a free consultation with a Columbia motorcycle accident attorney. Complete our contact form or call us today at (803) 350-9230 to speak with an experienced legal team and find out how we can put our considerable experience to work fighting for you.
Why Choose Us?
Selecting the right attorney with the right experience may have a huge bearing on the final outcome of your injury claim. The Goings Law Firm, LLC has dedicated its career to assisting injured individuals and their families in the Columbia community. Our experienced team has more than 30 years of experience helping victims of serious accidents – people just like you – recover and regain a sense of normalcy in their lives. In the event of a serious motorcycle accident, you need a legal team with experience navigating South Carolina's personal injury laws and how they pertain to motorcycle accidents. We understand the physical pain and suffering, medical bills, lost wages, that often accompany an injury accident. We are a highly-rated litigation firm, and we are built on strong values of fairness, hard work, honesty and service to others. Our number one priority is you. That means that we'll keep you regularly updated about the status of your case. We understand that a motorcycle accident is a traumatic experience, and we'll handle your case with the care and compassion it deserves. The Goings Law Firm, LLC will advocate for your rights, fight for you, and seek full compensation for your injuries.
Types Of Motorcycle Cases We Handle
The Goings Law Firm, LLC knows that motorcycle accidents can cause different injuries and complications for those affected by the crash. Typically, legal action may be required when a motorcycle accident is caused by the following situation:
The motorcycle accident victim should not be the one to shoulder the financial burden of accidents. Contact an experienced injury attorney at (803) 350-9230 to discuss the specifics of your case with a member of our team.
Frequently Asked Questions
At Goings Law Firm, LLC, we have spent the better part of our lives helping the people who need us most: injured individuals in Columbia. We will not waver in our commitment to help you in your time of need, and we are equally committed to explaining the process and communicating with you every step of the way. We know you likely have questions, so read the following FAQs below, and call us at (803) 350-9230 if you have any specific questions you do not see here.
How long will it take for my case to be resolved?
Each case is different, and the length will depend on many factors. When you file your claim, the details of the accident, and how the other side wants to approach finding a resolution. If no resolution can be found, the case may go to trial, which will inevitably lengthen the process. What we can guarantee is that our team here at Goings Law Firm, LLC will fight for you every step of the way. It's our priority that you get your compensation in a timely manner to ensure that you can pay your bills associated with your motorcycle accident and get back into your day-to-day routine with minimal hassle. We may be able to give you a better estimate about the potential length of your case once you get in touch with our team and we get the chance to discuss the particular details of your case.
How much compensation am I owed?
Without knowing the details of the case, it is impossible to estimate how much your claim is worth. A number of variables can affect the amount of compensation you may be owed, including who is determined to be the liable party, any other parties affected, the cause of the accident, the jurisdiction in which the accident occurred, and each party's insurance policies. The reality of the situation is that no two cases are the same and it can be hard to determine how much in damages you may be owed without a careful examination of the facts of your specific case. That's why it is important to contact an experienced motorcycle accident lawyer today to discuss your case.
If I was not wearing a motorcycle helmet, can it affect my case?
In South Carolina, if a driver is 21 years of age or over, he or she is not required to wear a helmet. However, helmets are required for operators and passengers twenty years of age and younger in South Carolina. It is still possible to get compensation for your accident and injuries. The common causes of motorcycle accidents – driver error, drunk driving, road defects, and motorcycle defects – still apply and it is possible to still prove fault in these cases. No matter what safety precautions you took prior to the accident, there are still ways to establish another party's fault so long as you were complying with all applicable laws. On top of everything, a lack of a helmet can cause worse injuries that may create larger medical bills from treatment – you shouldn't have to shoulder this burden alone. With or without your helmet, you still deserve compensation for what was likely a traumatic accident. Let us help you hold the liable party responsible for their irresponsible actions on the road.
Motorcycle Accident Statistics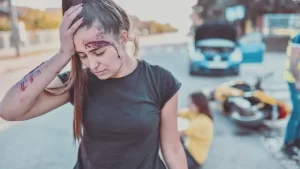 The National Highway Traffic Safety Administration (NHTSA) has some fascinating statistics for 2016, the most recent year they have updated statistics:
In 2016, motorcycle helmets saved 859 lives. Helmets are estimated to be 37 percent effective in preventing fatal injuries for motorcycle riders (operators) and 41 percent effective for motorcycle passengers.
For every 100 motorcycle riders killed in crashes while not wearing a helmet, 37 of them could have been saved had all 100 worn helmets.
There were 5,286 motorcyclists killed in motor vehicle traffic crashes—an increase of 8 percent from the 4,594 motorcyclists killed in 2015. Overall, motorcycle fatalities increased 2 percent from 2007 to 2016.
Two-wheeled motorcycles accounted for 93 percent of all motorcycles in fatal crashes.
Motorcyclists accounted for 14 percent of all traffic fatalities, 4 percent of all people injured, 17 percent of all occupants (driver and passenger) fatalities.
Of the 5,286 motorcyclists killed in traffic crashes, 94 percent (4,950) were riders and 6 percent (336) were passengers.
What do these statistics mean for you? Riding a motorcycle in the United States can be a hazardous experience. Other cars are often unsure of how to treat motorcyclists and don't treat them like they do other drivers. This, combined with the small size of the vehicle and the lack of protection afforded by the structure of the motorcycle, means that motorcycle accidents are consistently on the rise and the severity of accidents can be worse than other types of automotive accidents. This also means that, if you or a loved one is a motorcycle accident, there's a relatively high likelihood that you will be or already have been in an accident. This isn't your fault – it's a symptom of carelessness on the part of other drivers. If another person has put your life or well-being in danger on the road, let us help you get the damages you deserve to get your life back on track.
Contact Us
The motorcycle accident attorneys at Goings Law Firm, LLC have committed their careers to helping injured people in Columbia and the surrounding areas. You are our friends, neighbors, and family, and we know how hard you work for your paycheck. We understand how difficult it can be to recover on your own, and we know that these types of accidents can have a serious impact on both the victim and their family. If you have been injured in a motorcycle accident in South Carolina, don't wait to contact us at (803) 350-9230.