On Tuesday, July 21, a deadly accident on South Carolina Highway 17 in Myrtle Beach has left two people dead and six people in the hospital. The crash happened when the driver of a black Mercedes collided with a red Dodge minivan while the van was making a left turn at an intersection.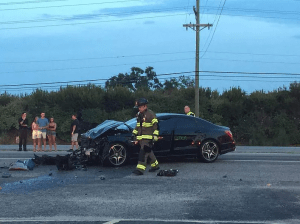 According to the South Carolina Highway Patrol, the driver of the Mercedes that caused the auto accident has been charged with two counts of reckless homicide. The driver has also been charged for driving with an open container. The minivan was carrying a family from North Carolina, and the driver of the Mercedes was from Louisiana. On July 23rd, a South Carolina court denied bond for the Louisiana man causing the accident. For further developments in the story, click here.
At the Goings Law Firm, LLC, we believe that reckless drivers and people who drive under the influence of alcohol in South Carolina should be prosecuted to the fullest extent of the law. While the law in South Carolina affords criminal penalties in cases like this one, victims and their families may also be able to seek civil penalties against reckless drivers for the damage that they have caused. Like in this case, when a tragic wrongful death occurs as the result drunk driving, we seek punitive damages to punish and deter further wrongful conduct in the state of South Carolina. If you or a loved one has been the victim of this or a similar accident, then contact the experienced legal team at the Goings Law Firm, LLC today for a free case consultation. Contact us by clicking here, or calling (803) 350-9230.