Columbia Workers' Compensation Lawyers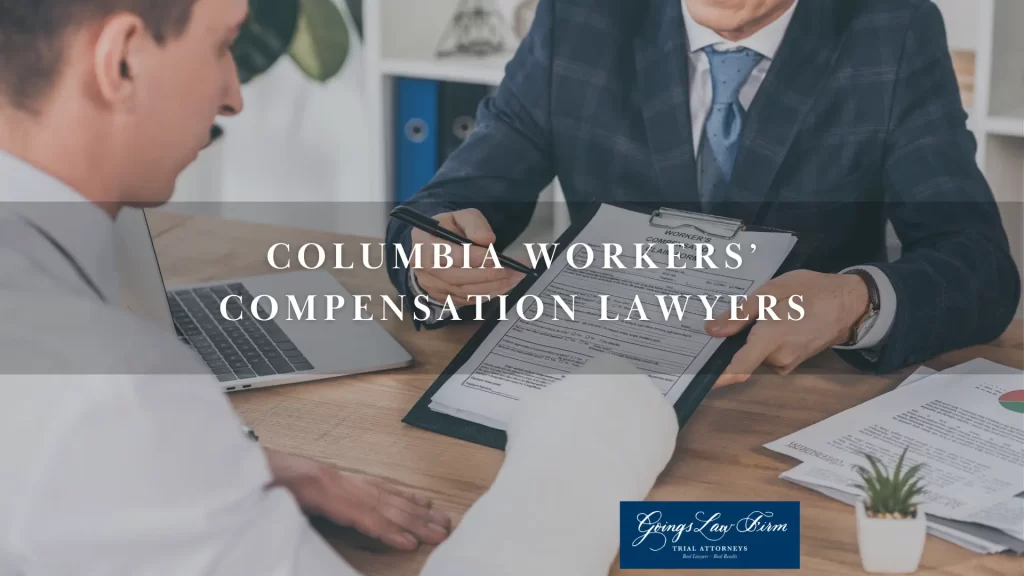 When a worker suffers an injury on the job, the consequences they may have to deal with can be overwhelming. Even relatively minor injuries can leave workers unable to return to their job for a substantial period of time, causing them to lose the income they likely need to deal with medical care and other costs relating to their injury.
In the case of major injuries, such as serious back or brain injuries, the consequences of a workplace accident may prevent you from returning to your job or earning gainful employment.
Fortunately, injured workers in South Carolina have important legal rights available through the South Carolina Workers' Compensation system designed to provide an injured employee with necessary medical treatment, disability payments, and monetary settlements to compensate for any physical impairment or disability.
The Goings Law Firm, LLC understands that many employers and insurance companies in South Carolina will deny or delay workers their rightful workers' compensation. When any delay can lead to serious financial difficulties or risk the treatment you need, it is of the greatest importance you get assistance to get the coverage you need as soon as possible.
Thankfully, the Columbia workers' compensation attorneys at the Goings Law Firm, LLC can provide you with just that kind of assistance.
For more than two decades, our accomplished attorneys and legal team have fought for the rights of injured workers across the state of South Carolina. We understand how to deal with the tactics insurance companies use to avoid or minimize the amount of benefits they owe you.
What Will Get My Workers' Compensation Claim Denied?
We know the common reasons why your claim will be denied. In these situations, the help of an experienced attorney can be essential to getting workers the medical care and disability compensation for their work-related accidents they need at the time they need it most, which is right now.
If you have been injured on the job, hire an experienced Columbia workers' compensation attorney you can find as soon as possible to ensure that your claim is properly filed and that you get the medical treatment and compensation that you deserve.
Don't delay. Goings Law Firm, LLC is here to help you with your Columbia workers' compensation claim for your workplace injuries.
All you have to do is contact us at (803) 350-9230, or reach out online for a free consultation from an experienced lawyer — to get some of the best legal advice on your claim available in all of South Carolina.
Why a Workers' Compensation Lawyer Makes All the Difference
When recovering from a workplace injury, the last thing you want to be dealing with is paperwork, legal complexity, and potential conflicts with your employer or employer's insurance company. Yet, that is the experience many dealing with a workers' compensation claim have to face.
The process can be difficult to navigate even when not facing the pain and stress related to your injury. In that condition, it is even easier to miss an important deadline, fill out information incorrectly, or lose track of crucial evidence of your on-the-job injury. These understandable mistakes can put your entire workers' comp claim at risk of a significant delay or denial.
You need an experienced Columbia workers' compensation lawyer. Contact us today for a free consultation.
What About the Paperwork and Deadlines for Filing Claims?
It is important to know that South Carolina workers' compensation claims are subject to strict deadlines for reporting and filing claims and documentation. In addition, the hearing process requires an injured worker to follow many South Carolina statutes and regulations, along with complying with the rules of the Commission and evidence in order to prove your work-related injury.
These requirements can be daunting without an attorney. Many workers' compensation benefits are lost because the injured worker is unaware of these laws and strict legal requirements.
By involving a workers' compensation lawyer, you'll be able to rely on seasoned advice from those who have helped hundreds just like you through the process. You can rely on your lawyer to keep track of deadlines, help you organize your information, and tell the story behind your injury.
You can get help preparing for your hearing so you don't make a crucial mistake. In other words, a workers' compensation lawyer can make sure a very difficult process goes smoothly, so the compensation you are waiting for is available quickly.
We Always Go the Extra Mile for Our Workers' Comp Clients
Your workers' compensation claim is the most important thing in your life right now but, to many lawyers, you will just be another client. That sort of callousness can lead to mistakes or oversights on your lawyer's part that can affect your claim.
When pursuing a workers' compensation claim, you want to know that your lawyer cares about you and is willing to put your interests first at all times.
Goings Law Firm, LLC has developed a reputation for its client-first philosophy. Our lawyers have been recognized not just for their legal knowledge and success, but for their passion for helping their clients overcome the difficulties facing them.
Goings Law Firm, LLC Excellence in Supporting Injured Workers
Our lawyers have all been singled out for their excellence and their dedication. Robert F. Goings was named an Emerging Legal Leader by South Carolina Lawyers Weekly Magazine and won the University of South Carolina's most prestigious award, the Compleat Lawyer.
Christian E. Boesl has an AV Preeminent rating from Martindale-Hubbell and has been placed on the South Carolina Super Lawyer Rising Stars list.
Meanwhile, Jessica L. O'Neal Gooding has been the author of several publications, has argued before the National Labor Relations Board and South Carolina's state and federal courts, and is a former Symposium Editor for the South Carolina Law Review.
The prestigious backgrounds of our lawyers have made it possible for us to provide high-quality assistance to Columbia residents moving through the workers' compensation process.
Common Types of S.C. Workers' Injuries and Claims
Workers' compensation benefits may be available to workers who have suffered a wide range of different types of workplace injuries and illnesses. In South Carolina, some of the most common accidents, injuries, and illnesses that lead workers to file workers' compensation claims include:
Regardless of how the injury occurred or even if you were at fault in causing the accident, workers' compensation laws provide injured workers important rights in South Carolina. Reach out to us today — Columbia SC experienced workers' compensation lawyers.
What Workers' Compensation Covers
Many people who apply for workers' compensation don't actually know exactly what they can expect from it. These expectations can therefore be wildly inaccurate.
The truth is, workers' compensation should make it possible for you to avoid major expenses and get through to the point of recovery, if such a recovery is possible, or else allow you to avoid financial difficulties if you are unable to work again.
More specifically, your workers' compensation claim can provide you with the following:
Covering medical bills related to your accident, including travel, doctors visits, medication, and physical therapy
Lost average weekly wage from the period you are unable to work due to your injury
The loss of future wages due to disfigurement, scars, the loss of a limb, or a generally reduced ability to work due to your injury
The loss of future wages due to permanent disability
Death benefits for the family in the case of a workplace death
There are limitations and specifications for all of the above forms of compensation. For example, while medical expenses are covered in full, you may experience disputes over what treatments are considered necessary and have to defend those treatments to get them covered.
Wages for workers are covered at two-thirds of their average weekly wage (averaged over the last four quarters) up to $784.03 per week. Long-term benefits and death benefits can be available for up to 500 weeks in South Carolina.
To learn more about the specifics of each of the above forms of compensation, speak with an experienced workers' compensation attorney. Contact us today for a free consultation about your workers' comp claim.
Common Workers' Compensation Mistakes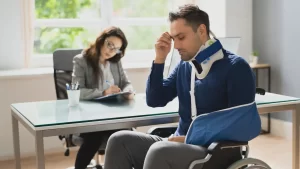 It's easy in such a difficult moment to make a mistake in your workers' compensation claim. Although this is understandable, such mistakes can lead to major delays or outright rejection of your workplace injury claim.
To help you avoid these serious setbacks, Goings Law Firm, LLC of Columbia, SC have compiled some of the most common mistakes we see individuals make as they apply for workers' compensation:
Not reporting a workplace injury right away to an employer
Refusing to seek medical attention in a timely manner
Not keeping track of important information about how the accident occurred, when it occurred, and the treatments received
Filling in the forms incorrectly
Exaggerating or otherwise misrepresenting the nature of the injury in the application
Choosing not to seek legal assistance in a timely manner
Again, many of these mistakes are understandable in the situation, but they can cause serious difficulties as your claim proceeds. To avoid making such mistakes, contact Goings Law Firm, LLC right away to start receiving legal guidance on your claim.
The Defense Base Act
In addition to helping individuals who have been injured on the job here in the U.S., our firm is ready to assist civilians who have been injured while working on overseas U.S. military bases or as overseas military contractors.
The Defense Base Act provides a way for these individuals to pursue compensation for their work-related injuries, and our firm knows what it takes to help injured workers with their medical benefits. Click here to learn more.
Frequently Asked Questions About Workers' Compensation
Our workers' compensation attorneys handle numerous workers' compensation claims in South Carolina and are frequently asked questions about these cases. Some of the questions we hear the most often include:
Why Would I Want a Lawyer for a Workers' Comp Case?
More often than not, the workers' comp insurance company will not be on your side. They will try to find any legal loopholes they can to reduce the amount of the benefits they owe you or deny your claim altogether.
It's not uncommon for an insurance company to claim that you have a preexisting condition or lack medical documentation, in an effort to skirt their responsibility.
Workers' compensation claims are complex, but with a skilled lawyer on your side, you will have someone who knows the South Carolina workers' compensation laws inside and out. They will be able to help you gather the evidence you need to support your claim, and they will be able to leverage the finer points of the law – such as your rights in regards to preexisting conditions – in order to build an irrefutable claim on your behalf.
An experienced SC workers compensation attorney will work hard to make sure you get the maximum benefits for your work related injury claim.
Can I Be Compensated for an Injury That Was Not an Accident?
Yes, you may be entitled to compensation for any injury that you sustain at work. Sometimes, you may end up with repetitive motion injuries, on the job injury, such as carpal tunnel syndrome, from typing all day long.
Then there are very serious injuries like permanent partial disability, permanent disability, and even fatal injuries, and all of these need legal representation for their workplace accidents claims — from lost income, to medical bills to funeral expenses.
Some people develop other illnesses or diseases from working conditions, and they can file for workers' comp in that situation as well.
Note, however, that South Carolina workers' comp law prohibits the coverage of stress, strokes, embolisms, heart attacks, aneurysms, and mental injuries when they are suffered due to general working conditions.
An attorney can help you determine whether or not you may be able to file a claim against an employer or insurance company for lost wages, medical expenses and other costs.
The Accident Was My Fault, Will That Affect My Benefits?
This will depend solely on the circumstances surrounding the accident. If you were engaged in horseplay, under the influence of drugs, or not following company protocols when the accident occurred, it may be more difficult to file for workers' compensation benefits.
Workers' comp is usually designed to provide compensation under most circumstances, so if you have any doubts, run it by your lawyer. They can help you understand your rights and whether or not you may be entitled to benefits for lost wages, and other costs.
Will I Be Able To See My Own Doctor if I File a Claim?
You may or may not be able to see your own doctor if you file for workers' compensation benefits, and that decision depends on your employer.
Sometimes, an employer will choose a specific doctor for their workers' comp, and if you want to use those benefits, you will have to go see that doctor. This is often a requirement of their insurance company.
After a time, you may be able to switch to your doctor for further examination, but that will need to be verified with your human resources department.
If you have further questions about your case, contact the Goings Law Firm, LLC — Columbia, SC workers compensation attorneys.
Hurt on the Job? Talk to a S.C. Workers' Compensation Lawyer
The South Carolina Workers' Compensation Commission is located in Columbia, so it may be important to hire a Columbia Workers' Compensation Attorney to handle your claim.
We are honest and dedicated to providing personalized attention to your workers' compensation injury claim. Many other law firms may have 'high volume' practices that devote great time and resources to advertising or making unreasonable promises.
At the Goings Law Firm, LLC, our clients come first. We understand that being injured and unable to work can place a tremendous financial strain on you and your family. We will work tirelessly on your behalf to see that you receive the benefits to which you are entitled.
Who Will Lead You Through the Workers' Compensation System?
At the Goings Law Firm, LLC we devote our efforts to representing you. We know you by your name, not by a number assigned to your case like some other firms. Your case will not be given a 'file number' and your claim will not be assigned to a paralegal or legal staff.
If you have suffered injuries as a result of a workplace accident or an injury that results from your job, the Columbia workers' compensation lawyers from the Goings Law Firm, LLC, can help you fight to get the lost wages and workers' compensation benefits you need. Speak with us about how we can help you navigate the claim and hearing process by calling (803) 350-9230 today.
We do not take a fee for handling your workers' compensation claims unless we are successful in obtaining financial compensation for your workplace injuries.
Reach out to your Columbia workers' compensation attorneys today for a free consultation about your work related injury.