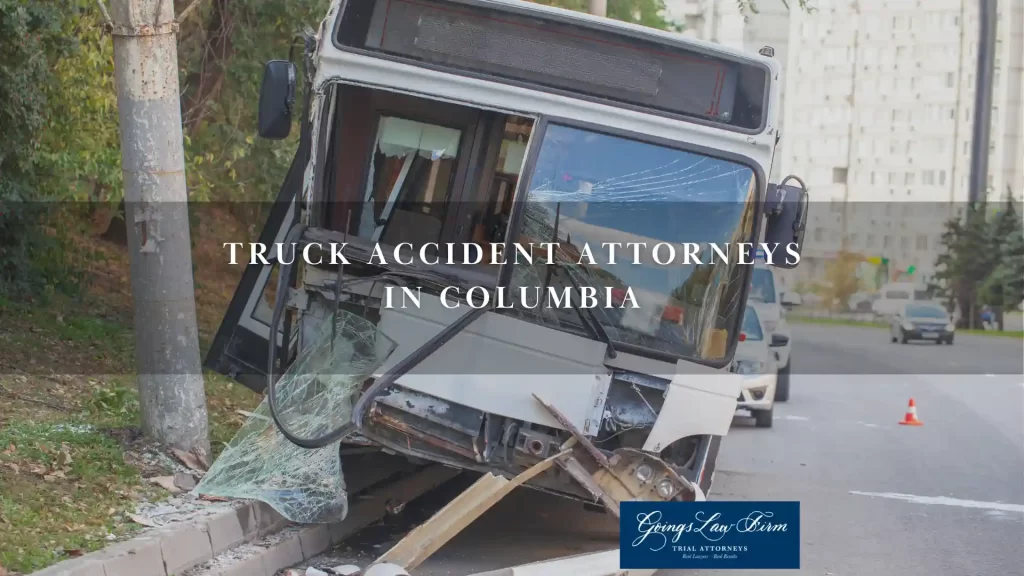 As the premier law firm in South Carolina, our Columbia truck accident attorneys have made it our mission to represent innocent, injured people in need. We have cultivated an outstanding reputation for our service in our field. Our attorneys have been consistently named among the Best Lawyers, Super Lawyers, and National Trial Lawyers. When we represent clients, we make them our number one priority.
At Goings Law Firm, LLC, we believe that if a negligent party injured you in an 18-wheeler accident, you shouldn't be left alone with the burden of recovery. You deserve an attorney who will get aggressive when fighting for the compensation you deserve. We hold trucking companies and drivers accountable for their actions.
Call us at (803) 350-9230 for a free consultation if you or a loved one was involved in a truck accident.
Do I Need A Truck Accident Lawyer?
If you have recently been injured in an accident caused by a truck or commercial vehicle, you need to call a Columbia truck accident lawyer as soon as possible. Medical bills, lost wages, physical therapy, hospital fees, and your own pain and suffering don't wait. You shouldn't have to deal with them alone, and if you are the victim of an accident with an 18-wheeler, you may have the opportunity for financial compensation. A trucking company may try to undercut you and silence you with low settlements, but having an attorney represent you is statistically proven to raise the probability of receiving compensation.
When you hire an accident attorney, you are taking the biggest step toward getting the financial compensation you deserve. It is the attorney's job to make the legal process as streamlined as possible. We'll take care of the paperwork, the insurance company, and all the legal negotiations. With an attorney working for you, you may regain your peace of mind much earlier than expected.
The Common Causes of Truck Accidents in South Carolina
There is a multitude of factors that can lead to a truck accident. The victims could pursue financial compensation if the driver or trucking company's reckless behavior or negligence caused the accident. Some common causes of truck accidents we have seen include:
Other Types of Large Vehicle Accidents
Semi-trucks and tractor-trailers aren't the only types of large vehicles that can be involved in serious collisions. Other types of large vehicles include:
Construction vehicles: Construction season brings with it a variety of roadside hazards. Construction vehicles and equipment can be unwieldy and hard to maneuver, and they also have blind spots that make it difficult for their drivers to spot smaller vehicles near their path.
Garbage and dump trucks: Garbage and dump trucks are large, slow-moving vehicles that stop frequently. This makes them particularly dangerous to other vehicles in their vicinity and even parked cars. They also have many moving parts that can pose a risk to cars that get too close.
Delivery vans: Delivery vans often make sudden stops, making them hard for others to avoid. Many van drivers, under tight deadlines, might speed or drive recklessly. This behavior endangers other drivers and can cause major collisions.
Moving trucks: The harsh reality is that, often, it's an inexperienced or novice driver operating the moving truck. Almost anyone can walk into an outlet and rent a large truck for their move. That doesn't mean they have the experience or qualifications to maneuver a large, powerful vehicle. The result can be serious accidents involving other drivers.
Tanker trucks: Tanker truck accidents can be deadly, especially when carrying hazardous materials like gasoline or radioactive material. Such accidents often lead to severe injuries or death.
Busses: Buses in South Carolina transport people daily. Accidents involving these large vehicles can result in many injuries due to the many passengers onboard. 
Tow trucks: Tow trucks are powerful and heavy, making them hard to stop. Towing vehicles with locked steering wheels or unusual sizes adds to the challenge. This increases the risk of serious tow truck accidents.
Accidents with large vehicles can lead to severe injuries or death. Many truck owners have teams of lawyers ready to deflect blame. You need someone to defend your rights. A truck accident attorney from Goings Law Firm, LLC can help you.
Why Should I Hire Goings Law Firm, LLC to Handle My Claim?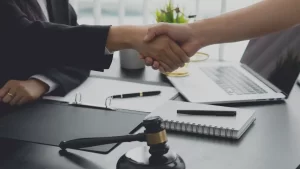 Truck accidents can significantly change someone's way of life. It isn't fair to have to suffer because of the negligent actions of another driver or truck company. You may be entitled to partial or full financial compensation if injured. Don't let this accident dictate the rest of your life. Hire a lawyer and fight for what you deserve.
When you hire a lawyer, you want to make sure they are someone you can trust. In Columbia, there is certainly no shortage of lawyers. But how do you know the attorney you're hiring will give your case the attention it deserves?
Robert Goings founded our firm in Columbia for Columbia residents. We love South Carolina – it's our home, and we make every client part of our family. We take care of our family.
Here is a selection of recent results we were able to win for hurt clients seeking compensation:
Won $3,100,000 in a settlement to an individual injured in a trucking accident
Won $1,150,000 in a settlement for someone involved in a truck accident
Won $420,000 in a settlement for a victim suffering a back injury after being involved in a trucking and automobile accident
We've earned the trust of all the clients who come to our firm. When you hire a truck accident attorney from Goings Law Firm, LLC, you access our wealth of experience. As an injured party, you deserve financial compensation, and we will fight for you.
Read more: How Truck Accidents Are Different From Other Car Accidents
Frequently Asked Questions
What Types of Damages Can I be Awarded?
You can be awarded three types of damages in an accident case: economic, noneconomic, and punitive.
Economic Damages
Economic damages are the most common when we think of settlements and can include:
Medical bills, past and future
Lost wages from time off work, past and future
Expenses related to childcare or transportation needed as a result of the accident
Noneconomic Damages
Noneconomic damages are equally as important in many cases. You may be compensated for any of the following:
Pain and suffering related to the event of the accident
Mental anguish and any trauma caused by the truck accident
Loss of companionship or guardianship in the event of a loved one's death
Loss of sexual function as a result of your injuries
Punitive Damages
Finally, punitive damages are also available in South Carolina truck accident cases. These are damages that are meant to punish negligent parties. Punitive damages are a court's way of deterring offenders from committing the same negligent acts again or deterring potential offenders from doing the same. In South Carolina, punitive damages may not exceed three times the amount of compensatory damages or $500,000.
Read more: How Much Tax is Paid on Personal Injury Settlements or Awards
Can I Seek Compensation Even if I Was Partially Responsible for the Accident?
Yes. The state of South Carolina works on the basis of comparative negligence, which allows you to seek compensation even if you were partially at fault. The court will assign you a quantified percentage of blame that will be deducted from your overall payout. If you seek $100,000 in compensation from a truck driver who was drinking while driving, for example, but you forgot to use your turn signal while changing lanes and contributed to an accident in that way, you may be assigned 10 percent of the blame, which means you'll receive $90,000 in compensation.
Read more: How Fault Is Determined in a Motor Vehicle Accident
Who is Liable for My Truck Accident?
Truck accident cases are extremely complicated when it comes to liability. Unlike standard passenger vehicle accidents, where a single driver is responsible for the damages to another driver, truck accidents involve trucking companies, contracted or full-time employees, and other agencies, such as cargo loading companies, shipping firms, and maintenance and parts groups.
This makes filing a claim much more difficult, which is why you need to hire an attorney as soon as possible after your truck accident. In South Carolina truck accident cases, you can file a claim with your insurance company or the negligent party's insurance company. However, without a trusted and experienced attorney's advice, you may not know how to proceed with your case. Consulting with an attorney as soon as possible after your accident can make the entire legal process run more smoothly.
Can I Settle Without an Attorney?
You may think it is not a big deal to undertake a settlement process in a truck accident on your own. But trucking is dangerous, and most truck companies have extensive experience dealing with accidents. Immediately after the accident, you will most likely be barraged by insurance agents and truck company representatives who will do everything they can to keep you from obtaining the compensation you need to pay your medical bills, cover lost wages from work, and repair your other non-monetary losses.
How Much Can I Expect in Financial Compensation?
With rising medical costs and wages being lost daily, it is natural to want those responsible to pay for their negligence. Every case is different. Depending on the causes of the accident, the surrounding circumstances, and even the time of day, the results of a claim can vary wildly. The only way to ensure the highest possible compensation is by hiring a lawyer. Once you have an experienced legal professional study and review your case, they can tell you the plan moving forward. You can also look at our results page to get a feel for what we have been able to win in the past.
South Carolina Truck Accident Statistics
A commercial truck is an intimidating vehicle. It towers over your car as you pass it on the road. Large trucks, such as tractor-trailers, can weigh up to 80,000 pounds. To give you some perspective, the typical compact car only weighs around 3,000 pounds. Unsurprisingly, collisions between commercial trucks and smaller vehicles can be catastrophic.
According to the South Carolina Department of Public Safety, 2,493 commercial motor vehicle crashes occurred across the state in a single year. Of the total number of collisions, 91 were fatal, while 107 accounted for serious injury collisions. These accidents killed 109 people and seriously injured 133.

The primary contributing factors in all injury collisions were driving too fast for conditions and failing to yield.
Most fatal truck accidents in South Carolina occurred on interstates, accounting for 30.3 percent of all such crashes. The percentages representing fatal truck accidents on other roads were:
The ages of the truck drivers involved in South Carolina crashes include:
A pattern emerged while analyzing the number of traffic collisions involving trucks by day of the week. Weekdays had the highest number of accidents, differing only slightly each day. Numbers dropped significantly on weekends. The number of collisions by day of the week was:
The time of day also contributed to the frequency of truck accidents. The number of total collisions involving commercial trucks was:
Getting hurt in a truck accident is scary. Injuries are often debilitating and require ongoing medical treatment to heal. Even in low-speed accidents, large trucks can produce enough force to cause severe injuries to the occupants of smaller vehicles.
At Goings Law Firm, LLC, we understand the trauma associated with truck accidents. We aim to help injured clients hold truck drivers and other careless parties accountable for the harm they cause. Contact us immediately if you sustained injuries in a truck accident due to someone's negligence.
Contact a Columbia Truck Accident Attorney Today!
You need to hire an attorney if you have recently been injured in a truck accident. At Goings Law Firm, LLC, our lawyers believe you shouldn't struggle through this difficult time alone. With our professional guidance, you may be able to receive the financial compensation you and your family need.
Don't let an 18-wheeler accident ruin your life. Hold the negligent party responsible and get the justice you deserve. Contact our Columbia truck accident attorneys today at (803) 350-9230 to talk to an experienced legal professional and discuss your options moving forward with your case. Put us to work for you!
Read more: