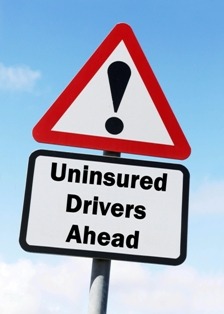 More frequently we are hearing that motorist are being struck by vehicles that do not have insurance. Uninsured drivers are a danger to us and our families on the roads. Without insurance, victims of automobile collision are often left without any ability to be compensated. In South Carolina, it is illegal to drive without proper insurance coverage. South Carolina law requires that you purchase liability and uninsured motorist coverage to drive in the state, which is divided into two coverages: bodily injury liability and physical damage liability.
Many uninsured motorist collisions involve hit and runs, drivers who are not authorized to operate a vehicle, or even driving a vehicle that was stolen.  The most recent study, performed by the Insurance Research Council (IRC) in 2017, shows that approximately 13.0 percent of motorists, or about one in eight drivers, are uninsured.  Stated differently, approximately 29.7 million drivers who are uninsured. Usually, in a car accident, the insurance of the driver who is at fault covers initially the injuries and damages. But, with 13% of drivers uninsured, victims of auto accidents have many questions about what to do when involved in a collision with an uninsured motorist.
Uninsured Motorist Coverage Will Allow Compensation
The law in South Carolina allows a victim of an uninsured motorist to receive compensation.  South Carolina motor vehicle insurance laws are intended to protect citizens against uninsured drivers. In fact, the law requires that every auto insurance policy sold in our state includes "uninsured (UM) motorist coverage."  Uninsured Motorist Coverage can provide you protection, but successfully bring an uninsured motorist coverage claim often requires an attorney to get you the best recovery.
Uninsured motorists coverage protects the policyholder directly, along with any person in the vehicle. This coverage pays if you are injured or your property is damaged by a hit-and-run driver or an uninsured driver. South Carolina law requires you to carry uninsured motorists coverage equal to the minimum amounts of liability coverage.  The minimum mandatory coverage in South Carolina is $25,000 per person for bodily injury, $50,000 per collision for bodily injury, and $25,000 in property damage, also referred to as ("25/50/25").  We strongly encourage everyone to purchase auto insurance with coverage limits greater than just minimum coverage.  In our experience, just one trip to the hospital following a collision can far exceed the this limits.  If your vehicle is totaled, this is often not enough to replace the vehicle, or cover the vehicle loan, and to provide a temporary vehicle
We have found that it does not cost much more money to have double or triple this amount, and often times drivers need in excess of $100,000 or $300,000 for each vehicle.   After you read this article, please check your insurance policy to see how much uninsured motorist coverage you have listed, and call your insurance agent today to get increased coverage.
The compensation that you are entitled to receive with uninsured motorist coverage would cover all legal damages that you are entitled to recover under the law including medical bills, chiropractic treatment, future medical expenses, lost wages, diminished earning capacity, pain and suffering, mental anguish, property damage, and in certain cases, even punitive damages.  Don't worry, your insurance premiums should not increase for having to file a uninsured motorist claim because this is mandatory coverage and it is not your fault that the at-fault driver was negligent and failed to get insurance.
It can be difficult for victims of an uninsured driver to successfully navigate the laws of an uninsured motorist claim on their own.  It is easy to be mislead by the insurance companies in giving recorded statement, not understanding the forms they want you to sign, or being uninformed about how much compensation you should receive for your injuries.  If you say or do the wrong thing in communicating with the insurance company, you may lose important benefits allowed under the law.  The auto insurance company will have a team of attorneys that will attempt to defend the interests of the insurance company over your own best interests.
Tips After a Collision with a Uninsured Driver
Unless it is a hit and run, many accident victims do not learn at the scene about a driver being uninsured.  We have found that drivers at the scene will provide proof of insurance that has expired or is otherwise fraudulent.  Proof of valid coverage is typically not performed until after a formal claim is made with that insurance company.   Because you may not learn until after the fact that the negligent driver was also uninsured, its important to always take this steps following a car accident:
1. Gather as Much Information At the Scene
As with any collision, try to get as much information as possible about the driver.   Ask the driver for his name, contact information, driver's license number, and a copy of his insurance card. Take pictures of all the damage to your car, the other cars, and the license plate on any vehicle involved in the collision.  Ask anyone at the scene if they saw or heard the collision, as it is important to get the names and all contact information of any witnesses.  Now these days, the chances that the collision was caught on camera is greater.  Look around to see if there is a traffic camera that could have captured the incident, or any surveillance camera at a neighboring businesses.   Never rely solely on the police officer to get any of this information.  We have seen that police do not take the time to do a thorough investigation, so make it a priority for you to gather as much information on the scene.
2.  Always Call The Police
Whether the other driver is cooperative or not, call the police immediately.  This is especially true if the damage is extensive or injuries are sustain. The police will document the incident and should provide you with an FR-10 Report, which is an exchange of driver information.  Also, the police should prepare a TR-310 Traffic Collision Report, which is the complete accident report. TR-310 Traffic Collision Report is generally available within 30 days after the collision from the SC Department of Motor Vehicles.  These police reports can become critical to any  insurance claim.  For example, without a police report you are barred for recovering for any hit and run collision under South Carolina statutory laws.
3. Contact Your Insurance Company and get Help from an Experienced Lawyer
The insurance company should be contacted the same day of the collision, or as quickly as possible.   Call your insurance company and follow the necessary steps to inform them of the accident.  The insurance company will want you to send in the FR-10 Report.  Notifying your insurance company will not increase your rates if the other driver is at fault, and is essential if the other driver is uninsured. Your insurance company will be able to determine if your policy covers uninsured drivers and offer directions on what to do next.  If you have substantial injuries, you should not give a statement to the insurance company without first seeking the advice of the best attorney you can find to answer your questions.
Our Attorneys Can Help with your Uninsured Motorist Insurance Claim
The Goings Law Firm has years of experience helping victims of collisions caused by negligent uninsured drivers.  Bringing an uninsured motorist claim in South Carolina can be difficult on your own, and without the best attorney for your case, you may not get the compensation that you are entitled under the law.  Contact us today for a free case evaluation or call us at 803-350-9230.
---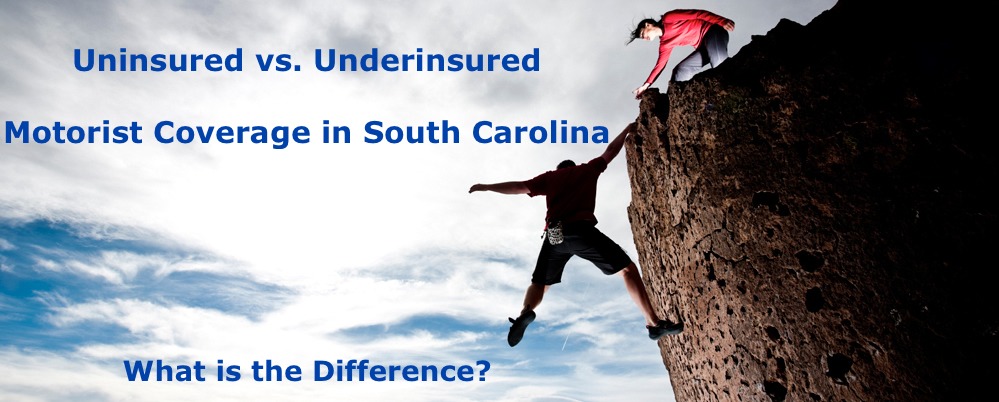 What is the Difference between Uninsured and Underinsured Motorist Coverage?
This is a common question that you may have when purchasing automobile insurance or after an accident. It is important to understand the differences between uninsured motorists coverage and underinsured motorists coverage. The amount of coverage that you may have could play an important role in determining if you can be fully compensated for the injuries sustained from an automobile accident.
The Goings Law Firm, LLC recommends that you purchase as much UM and UIM insurance as you can afford.  The medical bills, loss wages, and other losses that typically result from serious injuries caused by a car accident can be very high. Make sure that you have enough insurance coverage to help compensate you and your family for these damages.
Uninsured motorist coverage, referred to as "UM," is a type of auto insurance policy that pays you for your damages for bodily injury and property damage when an at-fault motorist is without any insurance, or insurance is less than the minimum limits. A motor vehicle is considered uninsured if the owner or operator is unknown, such as a hit-and-run. However, recovery under the uninsured motorist provision is subject to the certain narrow conditions set forth under the South Carolina law. Uninsured motorist coverage in South Carolina is mandatory.
Underinsured motorist coverage, referred to as "UIM," is a type of auto insurance policy that that can be triggered if the at-fault motorist is underinsured. Unlike UM insurance, the at-fault motorist has insurance but the vehicle's liability policy limits are not enough to compensate you for all of your damages. UIM coverage is optional. You should purchase UIM insurance because very often the medical bills and expenses related to personal injuries from auto accidents will far exceed in at-fault driver's liability policy.
Additional Sources:
To view the South Carolina statutes related to UM and UIM insurance coverage, go here: http://www.scstatehouse.gov/code/t38c077.php
Contact a Columbia Personal Injury Attorney Today if you Have Insurance Questions Following An Accident.
The Goings Law Firm, LLC is a Columbia based law firm with experience dealing with the insurance company and finding you the right insurance coverage for your injuries after an automobile, motorcycle, or truck accident. If you have any questions about insurance coverage that may apply following a motor vehicle accident, contact the Goings Law Firm, LLC online today or call (803) 350-9230 for a free consultation.