Columbia Lawyers for Spinal Cord Injuries from Rollover Accidents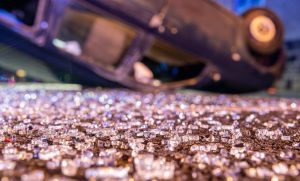 A rollover accident is one of the most dangerous types of auto accidents a person can be involved in. These violent crashes also have a high risk of inflicting catastrophic injuries such as spinal cord injuries. These injuries can leave rollover accident victims facing a lifetime of recovery. When someone else bears the fault for a rollover accident in which you suffered a spinal cord injury, you need an experienced car accident attorney to help you recover compensation and get justice.
If you have suffered catastrophic spinal cord injuries in a rollover auto accident that was caused by someone else's fault, call the Columbia rollover accident lawyers of Goings Law Firm, LLC at (803) 350-9230 today for a free initial case evaluation. We can help you learn more about what our firm will do to fight for fair and full financial compensation for your recovery.
Why You Need an Attorney After Suffering Spinal Cord Injuries in a Rollover Accident
When you've suffered a spinal cord injury in a rollover accident, you deserve to seek financial resources that can help with your recovery and long-term care if you experience life-altering effects from your injury. As the causes and circumstances of a rollover accident may not always seem evident, an experienced car accident attorney can perform a thorough investigation of the crash. We can determine what caused the crash and identify the party or parties who can be held liable to compensate you for your injuries. An attorney from Goings Law Firm, LLC can prepare a comprehensive, persuasive case and handle settlement negotiations with at-fault parties and insurance companies on your behalf. And if your case must go to court or to trial, we can ensure that your case is properly pursued and can advocate for a verdict and judgment in your favor.
Why Choose Goings Law Firm, LLC?
At Goings Law Firm, LLC, our car accident attorneys have been fighting for the rights and interests of spinal cord injury victims for decades. Our legal team is dedicated to doing whatever it takes to pursue the results you deserve in your case. Our tenacity is reflected in our track record of success obtained on behalf of our clients. Our work has also been recognized by awards and honors, including having been listed by U.S. News and World Report as one of the Best Law Firms of 2020.
How Spinal Cord Injuries Are Caused by Rollover Accidents
A rollover accident can cause injury to your spinal cord due to the violent forces exerted on your body in the crash. If your vehicle flips or tumbles over multiple times, the twisting forces can have a shearing effect on your spinal cord tissue. However, spinal cord injuries are more frequently caused by a vehicle occupant having their head and neck impact the roof of the vehicle. This significant pressure or force exerted on the spinal column can easily cause damage to the spinal cord.
Compensation You Can Get for a Spinal Cord Injury
A spinal cord injury may require months or even years of medical treatment and rehabilitation. Even after you've reached maximum medical improvement for a spinal cord injury, you may still require a lifetime of care if you have been left permanently disabled.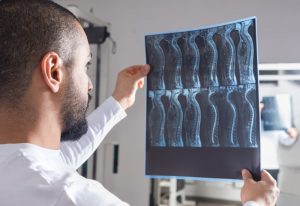 When you've suffered a spinal cord injury in a rollover accident, you may be entitled to pursue a legal claim to recover compensation for expenses and losses such as:
Medical expenses, including the costs of surgeries, hospital stays, physical therapy, prescriptions, and medical or mobility devices and equipment.
Costs of long-term care for permanent disabilities, such as home health services or renovations to your home.
Loss of wages or income when you miss work during your recovery from your injury, or loss of future earning ability and employment benefits due to disabilities.
Physical pain and emotional trauma or distress caused by your injury and medical recovery.
Loss of enjoyment or quality of life due to disabilities, embarrassment from scarring or disfigurement, or reduced life expectancy.
Frequently Asked Questions about Spinal Cord Injuries in Rollover Accidents
Some of the most common questions our clients have about rollover accident claims include:
Who can be held liable for my injuries?
The party or parties who can be held liable for a spinal cord injury you sustained in a rollover accident will depend on the circumstances that caused the accident. For example, if your vehicle rolled over in a collision with a vehicle operated by a negligent or reckless driver, you normally would hold that driver liable for your injuries. Or if you suffered a single-vehicle rollover accident due to a tire or brake failure, you might be entitled to hold your vehicle's manufacturer or the tire or brake part manufacturer liable.
How long do I have to file suit?
Under South Carolina's statute of limitations, you typically have three years from the date of the rollover accident to file a lawsuit against the at-fault party. Certain exceptions to the statute of limitations can provide a longer time to file suit. For example, the three-year limitations period does not begin for minor children until they reach 18 years of age. A car accident lawyer at Goings Law Firm, LLC can help you understand how long you may have to file suit in your case. But if you wait until after the statute of limitations expires to file a lawsuit, you risk having your case permanently dismissed by the trial court.
What happens if I was partially at fault for the accident?
Even if you bear some of the fault for causing a rollover accident and your spinal cord injuries, the law in South Carolina may still permit you to pursue an injury claim. The comparative negligence rule governing injury claims in South Carolina allows an injured plaintiff who was partially responsible for causing their own injuries to recover compensation from the other at-fault party. The injured plaintiff's share of the fault must not be greater than the other party's share of fault. But any compensation the injured plaintiff may be entitled to can be reduced in proportion to the share of responsibility they bear for their injuries and losses.
Contact Us
If you suffered spinal cord injuries in a rollover accident you didn't cause, you should not have to bear the financial burden for your treatment and your injury's long-term effects. Reach out to the car accident attorneys of Goings Law Firm, LLC by giving us a call at (803) 350-9230 or filling out our website contact form for a free, confidential consultation to discuss your legal rights and options for pursuing financial recovery and justice.