Getting into an accident on the road can be as shocking as it is physically dangerous. Both the shock and the potential for bodily harm are magnified when the crash involves a large commercial vehicle. When fully loaded, semi trucks can weigh up to 40 tons, and they are capable of riding or rolling over smaller cars when they lose control. This means that a collision with a truck carries the risk of considerable injury or even death.
While many truck accidents occur due to the truck driver's negligence, unforeseen hazards on the road, or faulty road equipment,  motorists in passenger vehicles can also sometimes be liable. In fact, according to the Federal Motor Carrier Safety Administration, around half of accidents involving trucks happen because of the negligence of other drivers. 
With so many commercial vehicles on our roads and highways, South Carolina drivers may be wondering if there are any steps they can take to reduce their chances of being involved in an accident with one of them. Motorists who keep the following four things in mind when on the road can help keep themselves and others safe from truck accidents.
Follow Trucks from a Safe Distance
If you are driving directly behind a commercial vehicle, it is essential that you leave enough space between the front of your car and the back of the truck's trailer. Following too closely will prevent you from being able to see the road in front of you properly. Leaving a minimum of three seconds' worth of distance between the truck and your vehicle will allow you to respond in good time if a hazard suddenly presents itself.
Leave Enough Space Behind You When You Pass
If you need to overtake a truck on the highway, it is vital that you give the truck driver enough space behind your car once you pull in front of them. Their heavy weight means that they need around twice as much space to stop as a regular passenger vehicle. If you cut in too close, and you need to suddenly stop for some reason, you risk being harmed in a severe rear-end accident. 
Keep Yourself Visible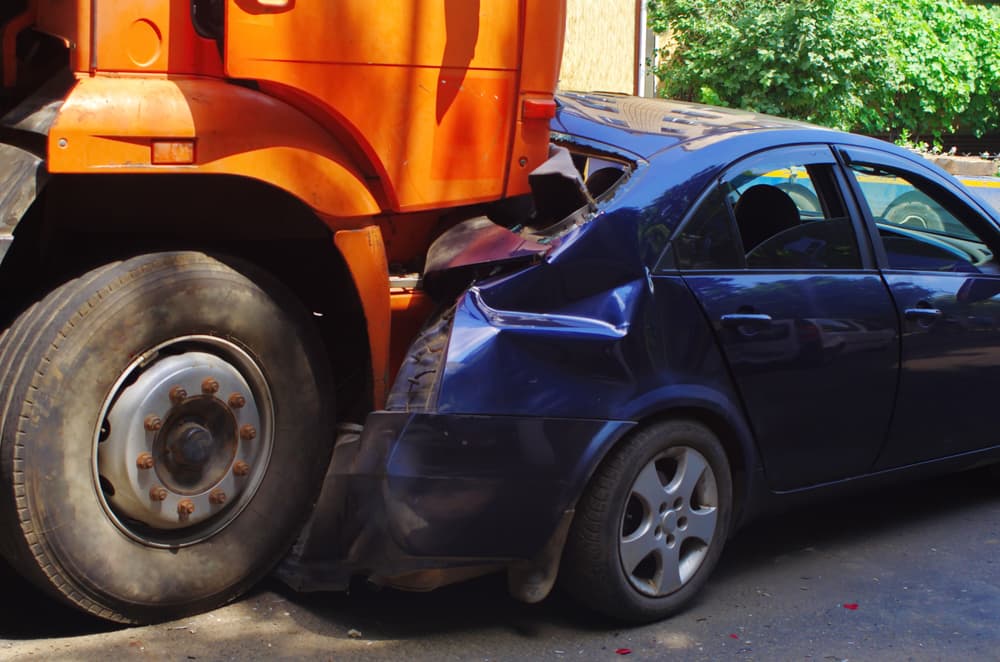 Commercial trucks have substantial blind spots. This is especially the case on the passenger side of the truck, which is why you should only ever pass a commercial vehicle on the driver's side. Other significant blind spots are directly behind the truck and behind the doors of the cab. If you settle in these spaces as you drive, the truck driver will not be able to see you and therefore will not have your presence in mind when they decide to maneuver their vehicle. When in doubt, look for the driver's eyes in the mirrors of the truck. If you are unable to see them, the trucker will not be able to see you.
Be Careful at Intersections
Intersections are common truck collision sites. You should always be particularly careful when you approach an intersection at the same time as a turning truck. The larger vehicle will need to swing wide when executing a turn, often making use of more than one lane. Other drivers should anticipate these kinds of maneuvers. Never try to pass a truck on the same side if there's a chance it might be making a turn. It is far better to be patient and allow the truck to finish its turn before you decide to pass, turn, or enter the intersection yourself.
Contact a South Carolina Truck Accident Attorney Today
Even if you follow the above advice every time you drive, there is still a chance you could be involved in an accident with a large commercial vehicle. If you have been injured in a truck accident in South Carolina, you are entitled to seek compensation from the responsible party. The damages you recover can help you pay for your medical and rehabilitation expenses, present or future lost wages due to missed time at work, and for the physical and emotional pain and suffering you have gone through due to the accident and your resulting injuries.
The experienced Columbia truck accident lawyers at Goings Law Firm, LLC have the experience, skills, and knowledge necessary to help you pursue the financial relief you deserve. Our attorneys will fight for your best interests and those of your family every step of the way, and we won't charge you any fees unless and until we obtain financial compensation on your behalf. Call us today at (803) 350-9230 for a free consultation.