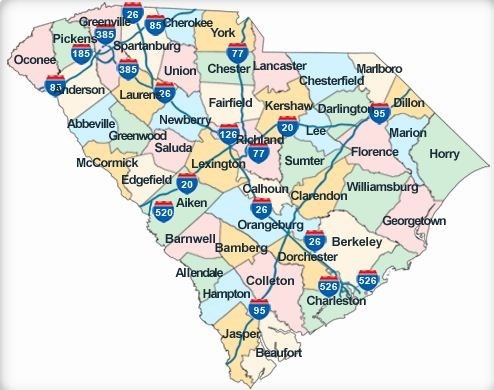 A high percentage of serious roadway collisions and fatalities in South Carolina occur on the Interstates. The old saying from the South Carolina Department of Transportation is that roads "can be highways or dieways, the choice is yours." The only way to prevent collisions and fatalities is to should enforce traffic laws, engineer safer roads and educate drivers of their duties and responsibility behind the wheel.
Several major Interstate roads run through South Carolina, including I-85, I-20, I-95, and I-26. The reason that a high number of serious injuries and fatalities occur on these Interstate highways is due to a combination of heavily traveled and congested roadways, large commercial trucks, and multiple lanes and and motorists are traveling at high speeds. To make matters worse, many of the Interstate highways and bridges in South Carolina are poorly maintained and need immediate repairs. The deteriorating conditions of the roadways are simply not safe for many drivers. The roads and highways of our neighboring states, North Carolina and Georgia, are much safer. Fortunately, in the last several years, the the State of South Carolina has begun much needed road construction to these Interstates. While construction efforts are ongoing, this also leads to more collisions due to the inherit dangerous of driving through construction zones.
Traffic Collision Statistics in South Carolina
141,00o+ traffic collisions in South Carolina in 2017
Greenville and Charleston Counties had the highest amount of traffic collisions in 2017, totaling 34,000 collisions
About 39,000 collisions resulted in injuries
About 925 results in fatalities
On average 1 traffic collision every 3 minutes
Most collisions occur between 3:00 pm and 6:00 pm
Most fatal collision occur between 9:00 pm and midnight
1 person injured every 8.7 minutes
1 fatality every 9.5 hours
One person killed in a DUI .08+ Collision every 28 hours
One Unrestrained Vehicle Occupant killed every 27.5 hours
One Bicyclist killed every 21.5 days
One Motorcyclist killed every 3.1 days
One Pedestrian killed every 2.3 days
One Child Under 6 seriously injured or killed every 9.4 days
Traffic collisions cost South Carolina citizens more than $4.5 billion in economic loss
Primary Causes of Motor Vehicle Accidents in South Carolina:
Speeding
Failure to yield right of way
Improper lane usage
Failure to maintain distance from other vehicles
Distracted driving
Driving Impaired or Intoxicated
We Help Injured Drivers in South Carolina
The Goings Law Firm, LLC is a South Carolina law firm dedicated to helping people who were injured in motor vehicle collisions caused by the negligence and reckless driving of others on the roadway. Don't confuse us with as one of those advertising lawyers on TV. You will not find us on TV. We are Real Lawyers who work hard to obtain Real Results. Instead of making cartoons on TV, we are in court working hard to get the best possible financial outcome for our clients.
The Goings Law Firm, LLC is a highly-rated law firm featured in publications such as Super Lawyers and Best Lawyers in America. Robert Goings was recently named the Top Personal Injury trial attorney in the Midlands of South Carolina in a recent best attorney review publication. Many of the cases we handle involve large commercial trucks and eighteen wheelers that cause large collisions on the Interstate. We aggressively fight against the trucking industry from allowing unsafe drivers to violate federal and state motor carrier safety laws. Because of our track record of success obtaining large settlements and verdicts for our clients, we are often called to handle cases throughout the entire state in cases involving major collisions that result in serious injury and death.
If you were injured or family member or loved one has suffered a fatality from a car accident or truck accident in South Carolina, contact the Goings Law Firm, LLC today at (803) 350-9230 to find out about your legal rights. We are aggressive, yet compassionate. We will ensure that you get the compensation that you deserve though a personal injury or wrongful death legal action.