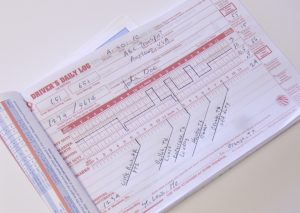 By: Robert F. Goings
Trucking Accidents: Driver Fatigue and Log Book Violations in South Carolina
Owners and drivers of 18-wheelers and other over-the-road commercial vehicles must comply with Federal hours of service laws:
No more than 11 hours driving following 10 consecutive hours off duty.
No more than 14 total hours driving and working after starting his shift
No more than 60 hours in an 7-day period or 70 hours in 8 days
Studies show that truck drivers who exceed these limits are more likely to drive carelessly because they are sleepy, less alert and react slower to crisis situations. In some cases, truck drivers do not follow the hours of service laws because truckers are often paid per mile. The more miles, the money a truck driver can earn. Trucking company sometimes turn a blind eye to this misconduct, and on occasion, drivers are pressured by the trucking company to speed or exceed Hours of Service to meet delivery deadlines.
Commercial truck drivers are required to keep a detailed log book in order to comply with Hours of Service (HOS) regulations. Truck drivers are required to record their duty status every 24 hours, including total miles driven, total hours worked, and inspections of the operating conditions of their vehicles and equipment such brakes, steering mechanisms, lighting, conspicuity tape, tires, horn, windshield wipers, mirrors, coupling devices, cargo doors and load securing equipment. In order to hide hours of service violations – some truck drivers have illegally falsify their log books. Surveys indicate that between 25% and 75% of drivers violate the rules. Not surprisingly, many accidents can stem from hours of service and log book violations.
Why do Truck Drivers Violate Hours of Service and Log Book Laws?
Long-haul drivers are normally paid by the mile, not by the hour. Truck drivers are not allowed to receive overtime pay for hours worked in excess of the standard 40-hour work week. Some drivers may choose to violate the Hours of Service to earn more money. Being paid by the mile, any work performed that is not actual driving is of no value to the driver, providing incentive to falsify the amount of time spent performing non-driving duties. Drivers can get away with this rule-breaking due to their paper-based log books. As a driver records their time spent behind the wheel, there is very little to stop them from forging their log books.
How to Prove Hours of Service and Log Book Violations?
It is the trucking company's responsibility that drivers are not falsifying log books and violating the hours of service laws. Sometimes the ability to prove hours or service or log book violations can for the basis of a lawsuit against the driver and the trucking company for negligence, gross negligence, and willful conduct. In order to prove log book violations, an experienced truck accident injury attorney may be able to use satellite tracking (GPS) records, the truck's "black box" data recorder, phone records, gas receipts, bills of lading, witness accounts and other information to prove that the driver falsified log books.
Contact to a Truck Accident Law Firm in Columbia, South Carolina.
If you have any questions about truck accidents in South Carolina that may involve potential hours of service or log book violations, please feel free to contact a our Truck Accident Attorneys today for a free consultation. In order to preserve the evidence, it is best to contact an attorney without delay. The Goings Law Firm, LLC is a law firm with experience in trucking related injuries or deaths. We are available at (803) 350-9230 or you may contact us online to answer your questions.