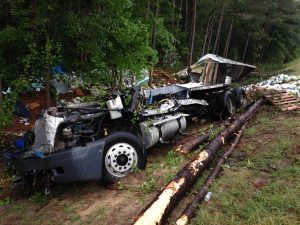 May 15, 2014 — Orangeburg, SC
On Thursday morning, May 15, 2014, three people were killed in a single vehicle truck accident on I-26 in Orangburg County, South Carolina.  The accident occurred when the 18 wheeler drove off the Interstate and into an embankment colliding into the multiple trees.  The accident is under investigation and the cause is currently unknown.  Typically single vehicle accidents occur due to driving inattention, distracted driving, and many times a driver being tried or falling asleep.
Our condolences and prayers go the families of those killed in this tragic accident.  If you or a loved one has been injured or killed in a truck accident, we understand the significant suffering that these tragic accidents can cause. Truck accidents cause significant injuries, and many times result in wrongful death.  Please contact us today to see if we can help you and your family recover from trucking related accidents.  We will work to secure the financial compensation that you deserve.  Please call Robert F. Goings of the Goings Law Firm, LLC at (803) 350-9230 for a free case evaluation.