A concept that was once limited to futuristic sci-fi movies is now a reality- a car that can drive itself. Recently, there has been a lot of news coverage about how driverless cars will soon be ready to enter the market and our roadways. Car companies like BMW, Mercedes Benz, and Toyota are just a few of the big name car manufactures who are all getting into the game with their driverless car programs.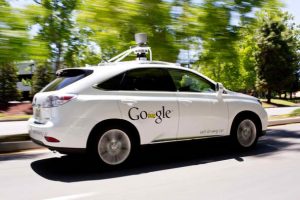 Even technology companies are looking to expand into the automotive industry. Google has been developing their driverless car program for 5 years now. Currently, Google's self-driving fleet of cars has driven over 700,000 miles along California's roadways. Much of this technology has already been on the road for several years. Today, you can buy a car that will parallel park for you, break automatically, and even let you know when it is safe to back-up or change lanes.
What effect will driverless car technology have on driver liability?
Generally, experts anticipate these technology improvements will increase safety on our roadways. But, what happens when the technology fails? Or, what if one of these driverless cars has been involved in an auto accident? Should the person sitting in the drivers seat be at-fault when they were not actually driving the car?  Is the owner of the driverless car strictly liable for the damage or injuries that it may cause others?  Possible answers to these novel questions were recently addressed in a law review article, Sue My Car Not Me: Products Liability and Accidents Involving Autonomous Vehicles, written by a University of South Carolina School of Law Alumni, Jeff Gurney.
Products Liability vs. Driver Liability
The Article suggests that when a driverless vehicle fails to function properly and causes an accident, then an injured party should be able to recover from the auto manufacturer in a claim for products liability. Yet, if the driver causes an accident because of his negligence, and the technology of the car did not contribute to the accident, then the injured party should be able to collect from the driver for any damage or injuries that occur.  Inevitable, this will likely lead to states enacting specific statutes that legislate fault and owner responsibility for driverless cars.  It goes without staying that this technology will also change the type of insurance that you will need in order to own or operate a driverless car.
If you have been injured in a motor vehicle accident, contacts an attorney at the Goings Law Firm, LLC.
Families of victims who have been injured or died in car accidents often experience a great amount of emotional and financial trouble. An attorney at Goings Law Firm, LLC may be able to help you seek financial compensation in this dire time. Contact us at (803) 350-9230 to discuss your situation with us.
If you have been injured by a manufacturer's product that failed to function properly, then contact the Goings Law Firm, LLC today.
Products Liability laws hold manufacturers responsible for products that fail to work properly or as they were designed to function. Injuries from these faulty products can often be very gruesome or tragic. At the Goings Law Firm, LLC we will work to hold the manufacturers responsible and to compensate you for your injuries. If you or someone you know has been injured or killed by a faulty product, then contact us for a free case consultation, at (803) 350-9230.