On Saturday, June 27, 2015, a crash in Spartanburg, South Carolina shut down I-26 for over twenty-four hours while crews worked to clean up the wreckage. This horrific crash happened when a tanker truck carrying diesel fuel and gasoline was involved in a wreck with two other vehicles. The crash caused a massive fire to engulf the interstate just outside of Spartanburg. There were three people killed in the crash and another victim was airlifted to the hospital in critical condition. Crews worked for over 24 hours to repair the interstate, and the road reopened around 7:00 p.m. Sunday evening.
In the wake of this terrible accident, South Carolina Highway Patrol is warning citizens to use extreme caution on the roadways- especially with the July 4th holiday approaching. As we have reported several times on our website, the Deadly Days of Summer are a very dangerous time on South Carolina roadways. This is the third fiery accident involving a tanker truck that has shut down Interstate 26 in South Carolina. The first two happened in Columbia and Charleston. This most recent accident in Spartanburg makes the third major I-26 tanker truck accident to happen since Memorial Day. South Carolina State Troopers have reported that 9 people have died in the past month within this 25-mile stretch of road on I-26. Additionally, the troopers are reporting that South Carolina auto accidents have increased by 50 over this time last year.
With the increasing danger on the South Carolina roadways during the summer moths, please use extreme caution as you travel on this upcoming July 4th weekend. The effects of truck accidents like this one can be devastating. The Goings Law Firm, LLC is South Carolina's Truck Accident and Auto Accident specialist. If you or a loved one have been injured or killed in a tragic accident like this one, it is important to hire a skilled attorney who can help your family navigate this often difficult and complicated process. Contact us by calling (803) 350-9230 today for a free case consultation.
---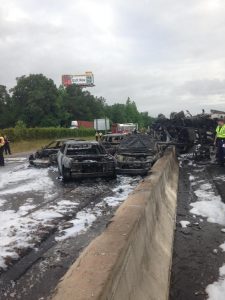 An early morning accident occurred on Interstate 26 in the eastbound lane of travel located northwest of Columbia, SC. The accident involved over ten vehicles, one of which was a large tanker-truck carrying 8,500 gallons of combustible fuel. The accident caused the truck to spill fuel all over the interstate. The truck and surrounding cars were engulfed by fire. Due to the accident, both lanes of travel were shut down for several hours. This caused major traffic back-up as I-26 serves as a major corridor for people traveling in and out of Columbia. Miraculously, no one was killed in the accident. The highway department is still ruling on the cause of this accident. The accident was so large that it garnered attention of some major news sources: view more stories here.
When an eighteen wheeler or truck accident occurs, it can cause major damage to surrounding vehicles, and it often results in either serious injury or death. When the truck is a tanker truck carrying dangerous chemicals or fuels, the damage can be magnified. While fortunately no one was killed in this accident, if you, a family member, or a friend were injured in this or a similar trucking accident, then contact the Goings Law Firm, LLC today. With trucking accidents involving chemical spills, it is important to consult an experienced trucking accident and auto accident attorney, who can handle the complexities of your case. Please call Robert F. Goings and his experienced staff at the Goings Law Firm, LLC for a free case consultation.