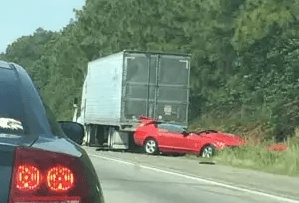 On May 25, 2014, during Memorial Day weekend, a significant motor vehicle accident occurred on I-20 near the Richland and Kershaw county lines. This accident is currently under investigation by the South Carolina Highway Parol, and the cause of the crash has not been released. The crash caused both westbound and eastbound lanes of I-20 near the Kershaw County and Richland County lines to be closed for most of the day.
Two cars were significantly damaged in the collision that also involved a large tractor trailer semi-truck.  A small truck was overturned, and a red mustang had the top of the car torn off. The 18-wheeler did not appear to sustain as severe of property damage. The extend of the injuries caused by this accident is currently unknown, but significant trauma was reported because persons were transported from the to Palmetto Health Richland in Columbia by helicopter. To learn about common causes of truck accidents, read this article.
Our prayers go the drivers, passengers, and families of those involved in this accident. If you or a loved one has been injured or killed in a accident involving a car or truck, we are here to help you.  Truck accidents cause significant injuries, and many times result in wrongful death.  Please contact us today to see if we can help you and your family recover from trucking related accidents. We will work to secure the financial compensation that you deserve.  Please call Robert F. Goings of the Goings Law Firm, LLC at (803) 350-9230 for a free case evaluation.
---
By: Robert F. Goings
What Causes Truck Accidents in South Carolina?
National Transportation Safety Board (NTSB) data has confirmed that driver error is the leading cause of large truck accidents.  Driver-related factors contributed to 31 percent of fatal truck accidents. In fact, the NTSB found that fatigue and overwork were responsible for up to 40 percent of all truck accidents.  This is why Federal law regulates how much time a truck driver can spend on the road. These are referred to as hours-of-service (HOS) regulations. HOS regulations dictate how long a driver can stay behind the wheel without a break and how many hours they can drive within a given time span. Many trucker drivers choose to drive past the point of fatigue because they are under pressure from customers or shipping companies. Studies have shown that some trucker turn to illegal substances to stay awake during their long hours on the road. Trucking companies become liable when drivers violate the law or cause trucking accidents.
According to the Federal Motor Carrier Safety Administration, several types of truck driver negligence or errors play a major role in causing serious tractor-trailer accidents. Some of the main factors in truck accidents include:
Speeding or driving too fast for conditions, which was responsible for 7 percent of large truck accidents
Distracted Driving, which played a role in 6 percent of fatal accidents involving large trucks.
Improper Lane Shifting or Failure to stay in the proper lane, which was a factor in 6 percent of large truck crashes.
Other common causes or types of truck accidents that top the list include:
Rollovers & Jack-knifing – Large truck are more likely to result in a roll-over accident due to the size, weight, and height of the vehicle. If the truck is carrying a load or pulling a trailer, the rollover can result from a jack-knifing.
Blind-spots – Trucks typically have blind spots both at the back and on the sides. These are referred to as no-zones. If a driver fails to carefully monitor the blind spots, accidents can happen when the truck turns or changes lanes.
Brake failure – Trucks always require more distance to stop. Unbalanced loads, poor maintenance, speeding, mechanical malfunctions, road conditions and weather can all prevent a truck's being unable to stop on time. One study found that 46 percent of randomly inspected trucks had to be taken off the road until their brakes could be fixed.
Under ride accidents – When a smaller vehicle collides with a large truck with a higher center of gravity, it may slide underneath the body or frame of the large truck. This commonly referred to as an "under ride accident. "Due to the nature of this collision, the driver or passengers in the small vehicle may suffer serious brain injuries, spinal cord injuries, or even death.
Have Questions for a Truck Accident Attorney in South Carolina?
If you have any questions about truck or eighteen wheeler accidents in South Carolina, it is best to contact a our Truck Accident Attorneys for a free consultation. The Goings Law Firm, LLC is available at (803) 350-9230 or you may contact us online to answer your questions.
---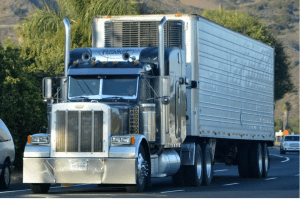 Eighteen Wheeler Truck Accident Statistics
By: Robert F. Goings
In 2014, the National Highway Traffic Safety Administration (NHTSA) released its 2012 Annual Report which includes data regarding the number of people injured or killed in accidents involving large trucks. The NHTSA defines large trucks as vehicles with a gross weight of more than 10,000 pounds. These large trucks are also called semi trucks, 18-wheelers, or tractor trailers.
According to the report, there were 3,921 people killed and 104,000 people injured in crashes involving large trucks in 2012. The report found that 317,000 large trucks were involved in traffic crashes during 2012.  Large trucks were more likely to be involved in a fatal multiple-vehicle crash as opposed to a fatal single-vehicle crash than were passenger vehicles. In South Carolina, 79 of the 1,163 total vehicles involved in fatal crashes involved large trucks.  A fatality may result in a wrongful death action.
Fatalities in crashes involving large trucks showed a 4 % increase from 3,781 in 2011 to 3,921 in 2012. Of these fatalities in 2012, 73 percent were occupants of other vehicles, 10 percent were nonoccupants, and 18 percent were occupants of large trucks.
Of these people injured in 2012, 73 percent were occupants of other vehicles, 3 percent were nonoccupants, and 24 percent were occupants of large trucks. The 2012 percentages show non-significant change in injuries when compared to 2011.
To view the NHTSA's 2012 Traffic Safety Facts for Large Trucks published on January, 2014, click below:
2012 Traffic Safety Facts for Large Trucks (NHTSA)
Contact a Truck Accident Attorney in Columbia
With so many deaths and injuries occurring each year from trucking accidents, it's important to understand your rights as a motorist. If you or a loved one has been involved in an truck or eighteen wheeler accident in Columbia, or anywhere in South Carolina, and you believe the truck driver or company is at fault, you may have important legal rights. You shouldn't have to pay for medical expenses, lost wages, or property damage due to someone else's fault. You may also recover damages for pain and suffering, loss of enjoyment of life, and future medical expenses that you may incur.
Contact the Goings Law Firm, LLC and we will investigate your accident, file a claim on your behalf, and work hard so you get the compensation that you deserve. Call (803) 350-9230 for your free consultation.