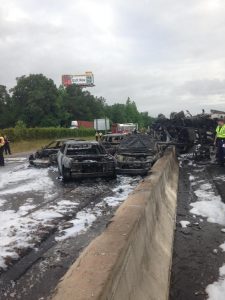 An early morning accident occurred on Interstate 26 in the eastbound lane of travel located northwest of Columbia, SC. The accident involved over ten vehicles, one of which was a large tanker-truck carrying 8,500 gallons of combustible fuel. The accident caused the truck to spill fuel all over the interstate. The truck and surrounding cars were engulfed by fire. Due to the accident, both lanes of travel were shut down for several hours. This caused major traffic back-up as I-26 serves as a major corridor for people traveling in and out of Columbia. Miraculously, no one was killed in the accident. The highway department is still ruling on the cause of this accident. The accident was so large that it garnered attention of some major news sources: view more stories here.
When an eighteen wheeler or truck accident occurs, it can cause major damage to surrounding vehicles, and it often results in either serious injury or death. When the truck is a tanker truck carrying dangerous chemicals or fuels, the damage can be magnified. While fortunately no one was killed in this accident, if you, a family member, or a friend were injured in this or a similar trucking accident, then contact the Goings Law Firm, LLC today. With trucking accidents involving chemical spills, it is important to consult an experienced trucking accident and auto accident attorney, who can handle the complexities of your case. Please call Robert F. Goings and his experienced staff at the Goings Law Firm, LLC for a free case consultation.
---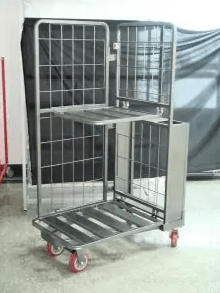 A merchandise cart, referred to as a "Rocket Cart", that Wal-Mart and other retail stores use to move merchandise around the store to stock shelves may contain a hazardous and dangerous defect. We have learned that workers all around the country are being injured by these carts due to a design defect. These Rocket Carts may be defectively designed because the upper shelf will falsely latch and, as a result, cause the shelf to expectedly fall and strike an employee in the head. The main failure is that the user of the Rocket Cart may hear a "clicking" sound which indicates to them that the pin is securely locked, when in fact it is not latched securely. Most users are struck because they are unaware that the shelf is not securely latched despite the fact that they have taken the appropriate steps to properly latch the shelf. The majority of injuries are to the employee's head because they are bent over in front of the Rocket Cart retrieving merchandise to put on the shelves.
Many of these injures will occur on the job, thus prompting a likely Workers Compensation claim. However, if you are injured by a defective product at work, such as a Rocket Cart, then you may be able to also pursue a third-party action against the company that designed and manufactured the defective product or device that caused you injuries.
If you or a loved one have been injured because of a defective "Rocket Cart", please contact the Goings Law Firm, LLC today to determine if you have a legal claim against the product manufacturer of the "Rocket Cart" or similar cart. Call (803) 350-9230 today for a free consultation.
---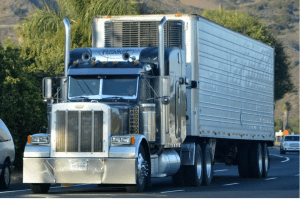 Eighteen Wheeler Truck Accident Statistics
By: Robert F. Goings
In 2014, the National Highway Traffic Safety Administration (NHTSA) released its 2012 Annual Report which includes data regarding the number of people injured or killed in accidents involving large trucks. The NHTSA defines large trucks as vehicles with a gross weight of more than 10,000 pounds. These large trucks are also called semi trucks, 18-wheelers, or tractor trailers.
According to the report, there were 3,921 people killed and 104,000 people injured in crashes involving large trucks in 2012. The report found that 317,000 large trucks were involved in traffic crashes during 2012.  Large trucks were more likely to be involved in a fatal multiple-vehicle crash as opposed to a fatal single-vehicle crash than were passenger vehicles. In South Carolina, 79 of the 1,163 total vehicles involved in fatal crashes involved large trucks.  A fatality may result in a wrongful death action.
Fatalities in crashes involving large trucks showed a 4 % increase from 3,781 in 2011 to 3,921 in 2012. Of these fatalities in 2012, 73 percent were occupants of other vehicles, 10 percent were nonoccupants, and 18 percent were occupants of large trucks.
Of these people injured in 2012, 73 percent were occupants of other vehicles, 3 percent were nonoccupants, and 24 percent were occupants of large trucks. The 2012 percentages show non-significant change in injuries when compared to 2011.
To view the NHTSA's 2012 Traffic Safety Facts for Large Trucks published on January, 2014, click below:
2012 Traffic Safety Facts for Large Trucks (NHTSA)
Contact a Truck Accident Attorney in Columbia
With so many deaths and injuries occurring each year from trucking accidents, it's important to understand your rights as a motorist. If you or a loved one has been involved in an truck or eighteen wheeler accident in Columbia, or anywhere in South Carolina, and you believe the truck driver or company is at fault, you may have important legal rights. You shouldn't have to pay for medical expenses, lost wages, or property damage due to someone else's fault. You may also recover damages for pain and suffering, loss of enjoyment of life, and future medical expenses that you may incur.
Contact the Goings Law Firm, LLC and we will investigate your accident, file a claim on your behalf, and work hard so you get the compensation that you deserve. Call (803) 350-9230 for your free consultation.