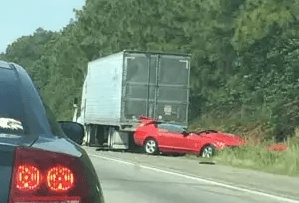 On May 25, 2014, during Memorial Day weekend, a significant motor vehicle accident occurred on I-20 near the Richland and Kershaw county lines. This accident is currently under investigation by the South Carolina Highway Parol, and the cause of the crash has not been released. The crash caused both westbound and eastbound lanes of I-20 near the Kershaw County and Richland County lines to be closed for most of the day.
Two cars were significantly damaged in the collision that also involved a large tractor trailer semi-truck.  A small truck was overturned, and a red mustang had the top of the car torn off. The 18-wheeler did not appear to sustain as severe of property damage. The extend of the injuries caused by this accident is currently unknown, but significant trauma was reported because persons were transported from the to Palmetto Health Richland in Columbia by helicopter. To learn about common causes of truck accidents, read this article.
Our prayers go the drivers, passengers, and families of those involved in this accident. If you or a loved one has been injured or killed in a accident involving a car or truck, we are here to help you.  Truck accidents cause significant injuries, and many times result in wrongful death.  Please contact us today to see if we can help you and your family recover from trucking related accidents. We will work to secure the financial compensation that you deserve.  Please call Robert F. Goings of the Goings Law Firm, LLC at (803) 350-9230 for a free case evaluation.
---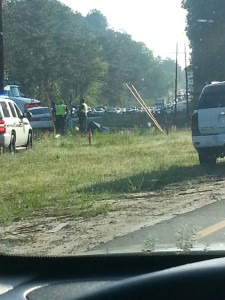 The Columbia Police Department reported a serious trucking accident with injuries at the intersection of Percival Road and Screaming Eagle Road in Columbia, South Carolina that occurred on the morning of Wednesday, April 26, 2014. Investigators said the dump truck appeared to have turned left in front of an oncoming vehicle. The driver of that vehicle hit by the dump truck was transported to a local hospital in Columbia. The condition of the driver is unknown at the time, but we understand that injuries can be particularly devastating from a truck accidents due to the size and weight of these large trucks. Our sincerest thoughts and prayers are with the victim and the family. The Columbia Police Department charged the dump truck driver with violating traffic laws.
Truck accidents, whether caused by large semis or dump trucks, can result in serious and deadly injuries. If you have been injured as a result of a truck accident, our lawyers at the Goings Law Firm, LLC, believe you shouldn't have to go through this difficult situation on your own. With our help and guidance, you may be able to better hold the party responsible for the truck accident that harmed you or your loved one and get the justice you need. Call us at (803) 350-9230 today to speak with a dedicated legal professional about your case and learn more about what we can do for you.
---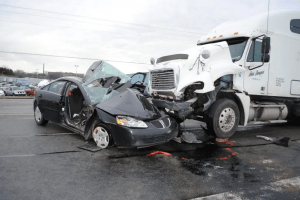 By: Robert F. Goings
If you or a loved one has been involved in a truck accident it is best that you hire truck accident lawyers who are knowledgeable in the state laws and truck regulations where the accident occurred.  Reckless driving by truckers can lead to serious injuries such as spinal cord injuries, traumatic brain injuries, and, sometimes, death.
Many truck accidents occur on interstates in South Carolina, such as I-95, I-26, I-77, and I-85.  Other truck related collision occur on secondary roads and highways.  It is essential if you want to obtain a successful verdict.  You can be sure that the trucking company, sometimes through their insurance company, will have an accident investigation team that will be dispatched immediately to orchestrate a defense against your truck accident injury claims.  The truck accident lawyers at Goings Law Firm, LLC will level the playing field by aggressively pursuing the maximum compensation for you and your family.
Our truck accident attorneys focus on all types of trucking accidents including 18-wheeler, semis, log trucks, and commercial vehicles. We strive to provide the best possible advocacy for every truck accident victim we represent.
Because of a trucks size and weight to a car's size and weight when you are involved in a crash that involves a tractor-trailer or other commercial vehicle, the results can be devastating. In addition, filing a lawsuit for a truck accident is more complex than car crash cases because compliance with truck safety regulations and industry standards is an important part of handling semi-truck crash cases.
Don't put off your defense. If you are unable, have another family member contact our law firm in Columbia to schedule a free consultation today. You need to hire a truck accident lawyer as soon as possible after the accident to make sure that evidence is preserved and is not destroyed. Our truck accident lawyers utilize specialists such as an accident reconstructionist who will go to the scene to preserve and document all the evidence. In some cases, physical evidence at the accident scene such as skid marks, yaw marks and scuffs begin to disappear within hours after a truck accident once the police barriers are removed. Weather, and cars and trucks passing along the same stretch of the road will erode evidence. Although there are certain documents relevant to a truck accident case that are mandated by the Federal Motor Carrier Safety Regulations (FMCSR) to be kept for a specific time period, once that time period has expired the trucking company can dispose of them. The sooner you have a truck accident attorney, the sooner he or she will start to collect, preserve, and examine evidence related to your semi-truck crash. Since any individual such as the truck driver, the trucking company, the owner of the trailer, or even the manufacturer of a defective product such as the truck's tires or brakes, etc. can be held liable for damages, the more evidence your truck accident injury lawyer can access, the better.