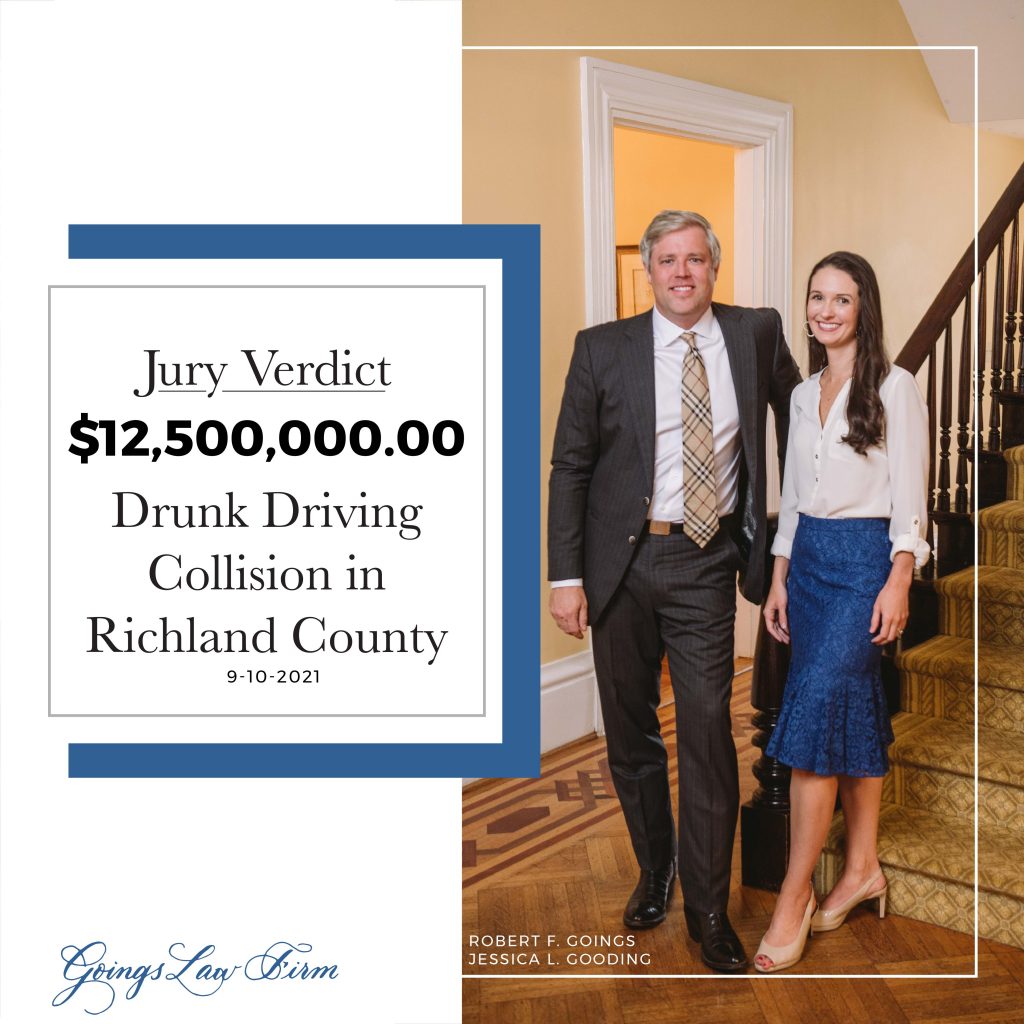 Our firm holds drunk drivers accountable!! On September 10, 2021, Robert F. Goings and Jessica L. Gooding of the Goings Law Firm, LLC won a jury verdict in the amount of $12,500,000.00 for a client involved a car collision in Columbia involving a drunk driver.  The verdict comprised of $3,500,000.00 in actual damages and $9,000,000.00 in punitive damages, reflecting the egregious conduct of a drunk and intoxicated driver endangering the public.   This verdict is considered the largest jury verdict in Richland County history in a non-fatality automobile collision.  The client sustained $380,000 in medical bills for treatment to his right shoulder, neck, and low back caused in a rear end collision on I-77 in a work zone, including being out of work for approximately two years following the collision.  Our firm has a reputation for getting results in the courtroom, and this verdict is another testament of our ability to hold drunk drivers accountable for their reckless and illegal conduct.  If you or your loved ones have been injury or killed in a collision caused by a drunk driver, please call or text our law firm today at 803-350-9230 for a free, no obligation consultation.
This case was featured on the front page of The State Newspaper in South Carolina.  Here is the article:
—
Richland County jury awards $12.5M to man in DUI crash
COLUMBIA, SC:  A Richland County jury awarded $12.5 million in damages to a highway worker who was severely injured on Interstate 77 in 2018 by a car driven by a man characterized during his trial as a "habitual drunken driver."
The jury was out less than three hours and returned a verdict late Friday, said Columbia attorney Robert Goings, who represented the injured worker, Keith Bookman before State Judge Grace Knie.The $12.5 million verdict includes $3.5 million in actual damages and $9 million in punitive damages, according to court records.
In 2018, Columbia-area attorney Jason Buffkin crashed his Honda into the rear of Bookman's truck, which was in the northbound lane of I-77 near the Garners Ferry Road exit. At the time of the crash, Bookman, 51, was part of a road crew and the truck he was driving was traveling north on the interstate at the end of a small caravan of trucks sweeping the interstate of debris from roadside construction.
The flashing message on the back of Bookman's truck said, "Right Lane Closed," with an arrow pointing to the left lane, Goings said.
Evidence at the four-day trial last week showed that Bookman's medical expenses related to the crash were approximately $380,000 for surgeries to his shoulder, neck and lower back, said Goings, who tried the case with partner Jessica Gooding.
The evidence before the jury also showed that Buffkin had a blood alcohol content of .148 some four hours after the crash, Goings said.
In his final argument to jurors, Goings said he told them, "You need to return a verdict that is big enough to make it in the newspaper, to send a message to any drunk driver that is out there that drunk driving is not tolerated in Richland County — that our lives, our families' lives are worth more than to be endangered by a reckless, careless drunk driver."
Buffkin could not be reached for comment.
Buffkin's attorney, Deidre Smallwood of Columbia, told The State Monday, "I am no longer involved with that" and had no further comment.
A lawsuit in the case said that between 2001-2018, Buffkin was charged with three DUIs, twice in South Carolina and once in Virginia.
In his answer to the allegations about previous DUI arrests, Buffkin's lawsuit argued that those DUI charges "lack relevance," were inadmissible in the trial and "not appropriate facts to be included in" this trial.
"The jury did get to hear that evidence, which showed the duration of his conduct," Goings said Tuesday.
Steven Burritt, executive director for Mothers Against Drunk Driving, or MADD, in South Carolina, said in his experience that size of a verdict is "unprecedented."
"I can't recall hearing anything that large in a DUI case," Burritt said.
"That jury took the opportunity to express just how serious this crime is, and how frustrating it is to see this kind of behavior, which puts all of us at risk." Burritt said. "The jurors said, 'Here's something we can do — we can send a message.'"
Collecting a sizable judgment is always uncertain and it remains uncertain how much of the $12.5 million verdict will be received.
But, Goings said, "We plan to exhaust all avenues to collect on the verdict."
---
Without a doubt the best way to fully recover financially for injuries sustained by a drunk driver is to hire the best attorney you can find and not talk with the insurance company representative or adjuster without legal representation.  Our firm has the experience and reputation in South Carolina of fighting against drunk and impaired drivers.  Our firm works with M.A.D.D of South Carolina (Mothers' Against Drunk Driving) to ensure that impaired drivers, and those that enable the intoxicated motorists, are punished financially for the injuries and harm that they cause to innocent victims of these crimes.
Injuries Caused by Drunk Drivers Require an Attorney Who Can Secure the Evidence Before it Gets Destroyed.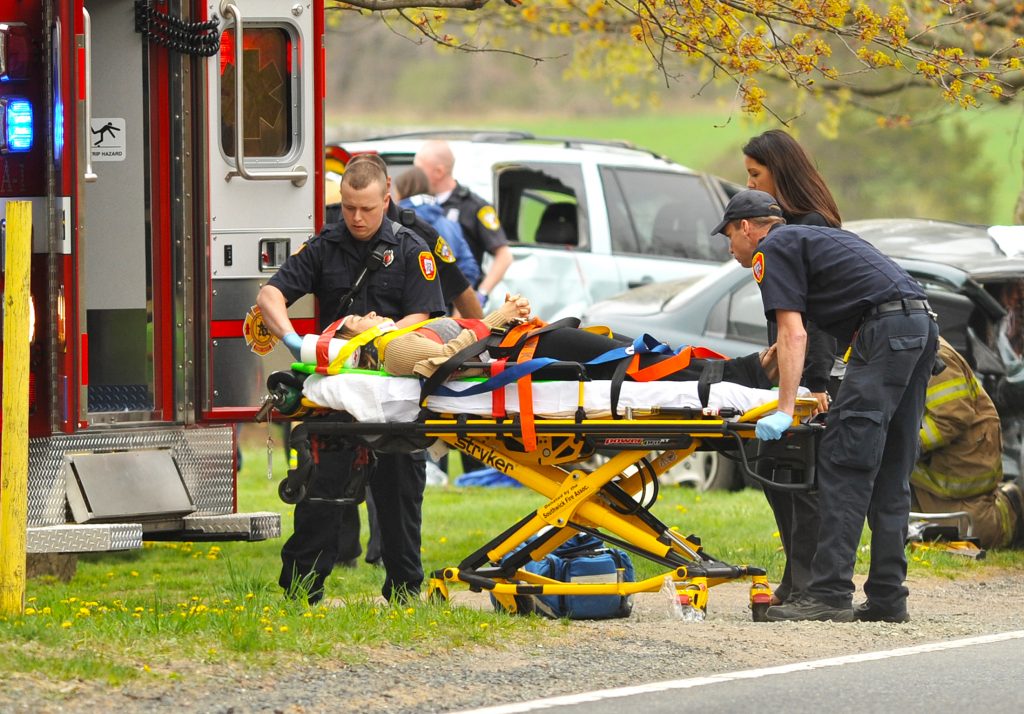 If you or a member of your family were involved in a motor vehicle collision caused by a drunk or impaired driver, it is important to contact an experienced and respected personal injury attorney without delay.  A collision that is caused by drunk or intoxicated drivers can be much more complex, both factually and legally, than an ordinary automobile collision.  It is important to not delay in hiring an experienced attorney to ensure that critical evidence is obtained and a thorough investigation is performed prior to important evidence being destroyed or not preserved.  In certain cases involving intoxicated drivers, our firm will obtain a full accident reconstruction and hire experts (such as private toxicologists) to prove, as required by law, that there amount of alcohol or drugs consumed would resulted in appreciable impairment of the ability to safely drive.  The evidence that needs to be obtained includes evidence related to the types and amount of alcohol or drugs consumed, surveillance videos, police body camera footage, patrol car footage, social media, credit card receipts, and cell phone data.  You should never rely on the police or law enforcement to correctly gather this information.  Further, it is important to hire an attorney to assist the police and the prosecutor's office in providing correct victim impact evidence that may be used to prosecute the drunk driver in criminal court.
You May be Entitled to Punitive Damages against a Drunk Driver
Another reason you need a lawyer to help recover for injuries sustained by a drunk driver is the availability of punitive damages.  Punitive damages are not the same as money for pain and suffering.  Punitive damages are different than pain and suffering, and can result in a high settlement or judgment in your favor.  If you have been hit by a drunk driver, the insurance company will most likely attempt an early settlement with you to avoid paying the full amount of damages you are owed, including punitive damages.  One of the reasons the insurance adjuster will try to act early to settle a claim involving a drunk driver is because of punitive damages.  The insurance adjuster does not want you to learn about your ability to obtain extra compensation in the form of punitive damages. Our firm has as track records of pursuing and winning settlements and judgments against the drunk driver and the insurance company for punitive damages.
Punitive damages are typically available for recovery against a drunk driver if your case is handled correctly.  Punitive damages are reserved for cases in which the at-fault driver's conduct was particularly reprehensible.  A court may impose punitive damages when the at-fault driver is acting recklessly or driving while intoxicated which is considered a conscious disregard for the safety of others.  There are many factors that are considered in determined the amount of punitive damages, which include:
The severity of the injuries the victim sustained;
The degree of reprehensibility of the action which caused the injury;
The comparative negligence of the injured party (the extent to which the injured party contributed to the accident);
The ability of the defendant to pay punitive damages.
In order to be awarded punitive damages, an injured party must be able to prove reckless, willful, or wanton conduct by clear and convincing evidence. In South Carolina, the General Assembly as placed limits on the amount of damage awards.  If a jury finds that punitive damages are appropriate, it can award an amount up to three (3) times the amount awarded during the compensatory damages determination, or $500,000, whichever is greater. However, these limits or "caps" on punitive damages will be removed entirely if "the defendant acted or failed to act while under the influence of alcohol, drugs, other than lawfully prescribed drugs administered in accordance with a prescription, or any intentionally consumed glue, aerosol, or other toxic vapor to the degree that the defendant's judgment is substantially impaired."  This "alcohol exception" to the punitive damages cap can result in a large award of punitive damages against a drunk driver.
Drunk Drivers Kill and Severely Injury Innocent People – The Statistics Are Alarming!
Drunk drivers inflict great harm on people in our society and the statistics are alarming.  In 2018, there were 10,511 deaths alone from drunk-driving crashes, and 29% of all traffic fatalities were caused directly by drunk or impaired driving as reported by the National Highway Traffic Safety Administration.  This is an average of 1 alcohol-impaired driving death every 50 minutes. Sadly, 231 of the deaths from drunk drivers were children ages 14 and under. The rate of alcohol impairment among drivers involved in fatal crashes in 2018 was 3.4 times higher at night than during the day.n 2018 among the 10,511 alcohol-impaired- driving fatalities, 67 percent (7,051) were in crashes in which at least one driver had a BAC of .15 g/dL or higher.  Also, 87 percent of alcohol related driving deaths or injuries occurred on non-interstate roads compared to 13 percent on interstate roads, and 56 percent occurred in urban areas whereas 44 percent occurred in rural areas.
The estimated economic cost of all alcohol-impaired crashes (involving alcohol-impaired drivers or alcohol-impaired non-occupants) in the United States in 2010 (the most recent year for which cost data is available) was $44 billion.  Included in the economic costs are: lost productivity, workplace losses, legal and court expenses, medical costs, emergency medical services, insurance administration, congestion, and property damage. These costs represent the tangible losses that result from motor vehicle traffic crashes. However, in cases of serious injury or death, such costs fail to capture the relatively intangible value of lost quality of life that results from these injuries. When quality of life valuations are considered, the total value of societal harm from motor vehicle traffic crashes in the United States in 2010 was an estimated $836 billion, of which $201.1 billion resulted from alcohol-impaired crashes.
Hire an Experienced South Carolina Attorney with the Reputation and Skill of Fighting Against Drunk Drivers
At the Goings Law Firm, we stand up for victims who were injured because of a drunk or impaired driver.  Let us stand up and fight for you.  Making  drunk drivers pay are what we are known in South Carolina, so allow us to put our experience and reputation to work for you today. We have a 5 Star rating from our clients, and our firm has been considered one of the most recognized firms in South Carolina in the fields of personal injury and wrongful death as featured in Best Lawyer, Super Lawyers, Martindale-Hubbell, and many other publications that rate attorneys. Call or text us at (803) 350-9230 for a free, no-obligation consultation about your legal rights.