Earlier today, Friday, August 1, 2014, two separate accidents happened in the eastbound lane at the interchange of interstates I-26 and I-126. The first accident happened when a tractor-trailer collided into a car while changing lanes. The second accident happened when two cars collided as a result of the slow-down from the first accident. These accidents happened during the morning rush hour when many residents make the commute from the communities of Irmo and Lexington into the City of Columbia for work. Local news reports indicate that traffic did not begin to clear until after 9:30AM.
Often times when slow downs happen as a result of an accident, these situations can create distracted drivers. Traffic caused by an accident can often be very hazardous because of a drivers tendency look at the accident, which takes the focus away from the driving. Law Enforcement Officials have reported problems with "rubber necking effects" because of these tendencies.
If you have been injured in an auto accident of trucking accident, contact an experienced attorney today!
Injuries from trucking accidents can often be very severe. Additionally, auto accidents can be equally as traumatic to the parties involved. If you or a loved one has been injured in an auto accident, trucking accident, or as the result of a distracted driver, then contact the Goings Law Firm, LLC. You can discuss your case with an experienced trial attorney to evaluate your claim for free. Call today at (803) 350-9230.
---
Are you on Light Duty or Out of Work because of a Job Injury?
When a worker suffers an injury on the job, the consequences they may have to deal with can be overwhelming. Even relatively minor injuries can leave workers unable to return to their job for a substantial period of time, causing them to lose income they likely need to deal with medical bills and other costs relating to their injury. Fortunately, the South Carolina Workers' Compensation system is designed to provide an injured employee with necessary medical treatment, disability payments, and monetary settlements to compensate for any physical impairment or disability.
If you have been injured on the job and your doctor has assigned you to restricted or light duty, then the employer is obligated to find a job for you within those restrictions set by your treating physician assigned by the workers compensation carrier. If the employer does not have a job available, then he can create one. If the employer cannot create a position, then your employer will have to pay temporary total disability. If the physician assigned by the carrier to treat your work injury does not provide the work restrictions that you need, you may need an evaluation by another physician or a second opinion.
What does Temporary Total Disability mean?
When your treating physician places you on light or restricted duty, and your employer can't find or create a job for your within the parameters of the restrictions, then you are entitled to temporary and total disability, often called "TTD". Generally, these are weekly payment for your time out of work and usually amount to two-thirds of your gross average weekly wage before the injury. The TTD checks are also tax-free. The weekly payments continue until you are able to return to work.
For Help dealing with doctors, employers, and understanding temporary total disability, contact a South Carolina Workers Compensation attorney at the Goings Law Firm, LLC, today!
If you have been injured on the job, it is best to hire an attorney as soon as possible to ensure that your workers compensation claim is properly filed and that you get the medical treatment and compensation that you deserve. A lawyer from the Goings Law Firm, LLC, can help you fight to get the workers' compensation benefits you need. If your employer is from South Carolina or you were injured in South Carolina on the job, contact us today by calling (803) 350-9230 so that we can help you navigate the claim and hearing process.
---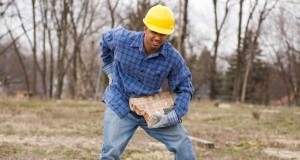 Back strains and sprains are the most common workplace injury in the United States. There are many causes of back strains and sprains, the most common is bending to lift or pull heavy objects.
Back injuries can result in significant pain and the inability to perform your job. While many back injuries are only minor muscular strains, back injuries can cause bulging disks, a herniated disk, nerve root impingement, or fractures to vertebrae. The treatment for a back injury can range from medication or physical therapy to back surgery that can require months to heal. Often times a back injury can result in permanent impairment.
In the February 2014 issue of Occupational Health & Safety magazine, the Bureau of Labor Statistics reports that 443,560 sprain, strain and tear cases resulting in days away from work were reported in private industry during a single year. In 36 percent of these cases – or nearly 160,000 – the workers injured their backs. The financial impact of a back strain or sprain is reported to be nearly $40,000 per lower-back injury. This result in medical costs and lost time at work from back strains and sprains of over $3 billion per year. Workers' compensation in South Carolina is available to help compensate you for your on the job injuries to you back, even if the back injury was minor or you aggravated a pre-existing back condition. The workers' compensation laws entitle you to all casually related medical treatment and, in some cases, up to 500 weeks of benefits for your back injury caused by the job.
Did you injury your Back or Neck at work?  Contact a South Carolina Workers' Compensation Back Injury Lawyer Today.
The Goings Law Firm, LLC helps workers with back and neck injuries obtain the medical treatment and compensation that they deserve through the South Carolina workers' compensation system. It is important to hire an experienced South Carolina Workers' Compensation attorney if you injured your back or neck at work.  Back injury claims are complex and the workers' compensation carrier may not provide you the benefits that you are entitled to receive.  We do not recommend navigating the system alone.  The employer and the worker comp insurance company will have an attorney, shouldn't you? If you have questions about whether to hire a workers' compensation attorney in South Carolina, here are the answers.
If you injured your back or neck at work, contact this Columbia Workers' Compensation Attorney today for a free consultation and to learn more about your rights under the law. There is no charge to see if we can help you.