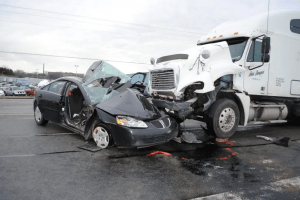 By: Robert F. Goings
If you or a loved one has been involved in a truck accident it is best that you hire truck accident lawyers who are knowledgeable in the state laws and truck regulations where the accident occurred.  Reckless driving by truckers can lead to serious injuries such as spinal cord injuries, traumatic brain injuries, and, sometimes, death.
Many truck accidents occur on interstates in South Carolina, such as I-95, I-26, I-77, and I-85.  Other truck related collision occur on secondary roads and highways.  It is essential if you want to obtain a successful verdict.  You can be sure that the trucking company, sometimes through their insurance company, will have an accident investigation team that will be dispatched immediately to orchestrate a defense against your truck accident injury claims.  The truck accident lawyers at Goings Law Firm, LLC will level the playing field by aggressively pursuing the maximum compensation for you and your family.
Our truck accident attorneys focus on all types of trucking accidents including 18-wheeler, semis, log trucks, and commercial vehicles. We strive to provide the best possible advocacy for every truck accident victim we represent.
Because of a trucks size and weight to a car's size and weight when you are involved in a crash that involves a tractor-trailer or other commercial vehicle, the results can be devastating. In addition, filing a lawsuit for a truck accident is more complex than car crash cases because compliance with truck safety regulations and industry standards is an important part of handling semi-truck crash cases.
Don't put off your defense. If you are unable, have another family member contact our law firm in Columbia to schedule a free consultation today. You need to hire a truck accident lawyer as soon as possible after the accident to make sure that evidence is preserved and is not destroyed. Our truck accident lawyers utilize specialists such as an accident reconstructionist who will go to the scene to preserve and document all the evidence. In some cases, physical evidence at the accident scene such as skid marks, yaw marks and scuffs begin to disappear within hours after a truck accident once the police barriers are removed. Weather, and cars and trucks passing along the same stretch of the road will erode evidence. Although there are certain documents relevant to a truck accident case that are mandated by the Federal Motor Carrier Safety Regulations (FMCSR) to be kept for a specific time period, once that time period has expired the trucking company can dispose of them. The sooner you have a truck accident attorney, the sooner he or she will start to collect, preserve, and examine evidence related to your semi-truck crash. Since any individual such as the truck driver, the trucking company, the owner of the trailer, or even the manufacturer of a defective product such as the truck's tires or brakes, etc. can be held liable for damages, the more evidence your truck accident injury lawyer can access, the better.