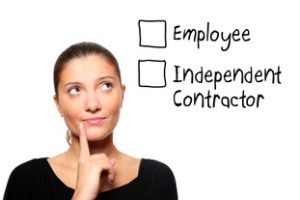 South Carolina's workers compensation benefits only apply to injuries suffered by an employee, not an independent contractor. Often times, your employer will try to wrongfully classify you as an "independent contractor" instead of a employee for purposes of attempting to get around workers' compensation laws and other employment-related requirements. We have seen that employers may require you to sign written documents agreeing that you are not an employee or provide you a Form 1099 for tax purposes instead of a Form W-9. However, in actuality, the injured worker is an employee in every sense of the word.  Just because your employee classifies you an an independent contractor, does not mean that you are one. If your employer is taking the position that you are not an employee for purposes of your workers' comp claim, then you should contact an attorney without delay.
There is no single, established definition of an independent contractor under South Carolina law. Generally, an independent contractor is one who, exercising an independent employment, contracts to do a piece of work according to his own methods, without being subject to the control of his employer except as to the result of his work.
Only an employee is entitled to workers' compensation benefits. The determination of whether an injured worker was an "employee" or and "independent contractor" is an issue that is commonly contested before the South Carolina Workers' Compensation Commission.  The Commission and the South Carolina courts employ a 4 factor test to determine your status as an employee.
Employee vs. Independent Contractor – 4 Factor Test
The employee vs. independent contractor analysis is fact-intensive, and the courts rely primarily on a Right to Control Test to determine employment classifications. The control test generally assesses whether the employer has the right to direct and control the work of the individual. The courts examine a variety of factors to determine whether the right to control is present, and no one factor is dispositive. The principal factors showing right of control are:
Direct Evidence of Right or Exercise of Control
Method of Payment
Furnishing of Equipment
Right to Fire
Based on these four factors, the critical inquiry is whether there exists the right and authority to control and direct the particular work or undertaking. The right to control does not require the dictation of the thinking and manner of performing the work. It is enough if the employer has the right to direct the person by whom the services are to be performed, the time, place, degree, and amount of said services. When the employer furnishes the tools and equipment, the inference of right of control, thus an employee status, is a matter of common sense and business. Payment on a time basis is a strong indication of the status of employment, while payment on a completed project basis is indicative of independent contractor status. The power to fire or terminate the work, it is often said, is the power to control. If an injured worker has the ability to be fired, then this factor supports an employee/employer relationship instead of an independent contractor.
Injured on the Job? Contact Robert F. Goings for Questions regarding Your S.C. Workers' Compensation Claim.
If you or a loved one has been injured in a work related accident, contact the Goings Law Firm, LLC today. The question of whether an injured worker is an employee or a contractor is one of the many complicated factual and legal questions that injured workers may face in trying to obtain benefits that are allowed under South Carolina Workers' Compensation laws.   Don't go at it alone for your on-the-job injury, and call at (803) 350-9230 or complete the online contact form here. This S.C. Workers' Compensation law firm is here to answer your questions today.