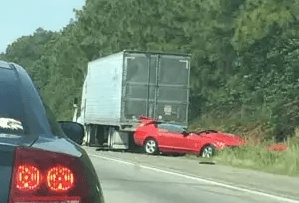 On May 25, 2014, during Memorial Day weekend, a significant motor vehicle accident occurred on I-20 near the Richland and Kershaw county lines. This accident is currently under investigation by the South Carolina Highway Parol, and the cause of the crash has not been released. The crash caused both westbound and eastbound lanes of I-20 near the Kershaw County and Richland County lines to be closed for most of the day.
Two cars were significantly damaged in the collision that also involved a large tractor trailer semi-truck.  A small truck was overturned, and a red mustang had the top of the car torn off. The 18-wheeler did not appear to sustain as severe of property damage. The extend of the injuries caused by this accident is currently unknown, but significant trauma was reported because persons were transported from the to Palmetto Health Richland in Columbia by helicopter. To learn about common causes of truck accidents, read this article.
Our prayers go the drivers, passengers, and families of those involved in this accident. If you or a loved one has been injured in an accident involving a car or truck, we are here to help you.  Truck accidents cause significant injuries, and many times result in wrongful death.  Please contact us today to see if we can help you and your family recover from trucking related accidents. We will work to secure the financial compensation that you deserve.  Please call Robert F. Goings of the Goings Law Firm, LLC at (803) 350-9230 for a free case evaluation.