Massive Accident Shuts down both lanes of I-26 for Several Hours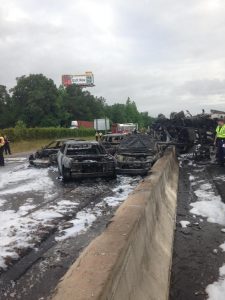 An early morning accident occurred on Interstate 26 in the eastbound lane of travel located northwest of Columbia, SC. The accident involved over ten vehicles, one of which was a large tanker-truck carrying 8,500 gallons of combustible fuel. The accident caused the truck to spill fuel all over the interstate. The truck and surrounding cars were engulfed by fire. Due to the accident, both lanes of travel were shut down for several hours. This caused major traffic back-up as I-26 serves as a major corridor for people traveling in and out of Columbia. Miraculously, no one was killed in the accident. The highway department is still ruling on the cause of this accident. The accident was so large that it garnered attention of some major news sources: view more stories here.
When an eighteen wheeler or truck accident occurs, it can cause major damage to surrounding vehicles, and it often results in either serious injury or death. When the truck is a tanker truck carrying dangerous chemicals or fuels, the damage can be magnified. While fortunately no one was killed in this accident, if you, a family member, or a friend were injured in this or a similar trucking accident, then contact the Goings Law Firm, LLC today. With trucking accidents involving chemical spills, it is important to consult an experienced trucking accident and auto accident attorney, who can handle the complexities of your case. Please call Robert F. Goings and his experienced staff at the Goings Law Firm, LLC for a free case consultation.
<