Fall may be the quintessential time to enjoy a long motorcycle ride. The weather is crisp and mild, and the scenery is breathtaking. It may also be the last time you get to enjoy a ride on the open road before the cold, harsh weather of winter sets in. However, autumn can present a few challenges to road warriors.
Before you set out on your next autumn riding adventure, consider some of these safety tips from Goings Law Firm, LLC.
Plan Ahead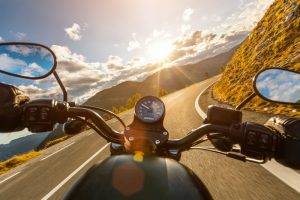 A spontaneous autumn ride sounds appealing, but for safety reasons, it is always best to plan ahead before you hit the pavement. Consider your route in advance and take note of dangerous curves, road construction, and other potential hazards you may encounter on the way. You want to witness the natural beauty of your surroundings, so be sure that you know your route well and can anticipate safety issues along the way.
While generally mild, autumn can also be unpredictable. You'll want to check weather reports and local road conditions before venturing out. Wear layers so that you will be comfortable if the temperature changes. It's a good idea to keep rain gear with you in case of sporadic showers.
Make Sure Your Bike Is in Good Condition 
Before a long autumn ride, make sure your motorcycle is ready for the trip. Fill up on gas, be sure all fluids have been topped off, and check the air pressure in the tires. You will also want to make sure that the brakes are in good, working condition. These types of basic safety inspections are especially important if the summer heat has kept your bike in the garage for a few months.
Watch Your Speed 
The best drives for viewing the changing fall leaves are often filled with dangerous curves and turns. Again, know your route before you embark on your journey and keep your speed in check. Taking a curve or turn too fast can turn tragic. Be on the lookout for signs warning of sharp turns and curves and adjust your speed accordingly.
Use Caution on Popular Roads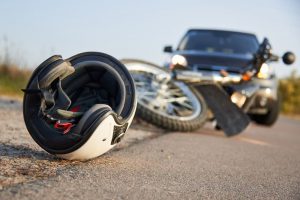 If you are out looking at the beautiful autumn scenery, chances are that others are, as well. Unfortunately, not everyone is on the lookout for motorcycles. That means you may have to be extra vigilant to avoid an accident. If you are traveling through a popular scenic area where other drivers may be distracted, increase your following distance. This will give you more time to react and maneuver if another driver makes a sudden stop for a photo opportunity.
You will also want to be alert for cars as they pull off and get back on the road. Many areas have scenic pullouts where people can stop and enjoy the view. Sometimes motorists are not watching carefully enough when they exit and enter these areas.
Watch for Wildlife on the Road
Fall isn't just a popular time for people to be out and about, it's a popular time for animals to be on the move. Between mating season and searching for the last remnants of food before winter sets in, animals are often much more active than in summer. Remain aware of your surroundings and keep your eyes open for signs of wildlife. A collision between a large animal like a deer and a motorcycle can be devastating.
You may also want to avoid hitting the road during times when animals are at their most active. Dusk and dawn, when light levels are low, are peak times for animal activity.
Wear a Helmet 
At this point, it should go without saying: helmets save lives. If you are embarking on an autumn ride, be sure to wear a helmet. Helmets should meet all DOT safety guidelines. In addition to a good helmet, you may also want to pack eye protection and wear light-colored or reflective clothing. The more visible you are, the better.
Motorcycle Accident? Contact an Experienced South Carolina Motorcycle Accident Attorney Today 
Autumn may be an ideal time for motorcyclists to venture out onto South Carolina roads, but it can be a dangerous time as well. One reckless or negligent driver can cost a motorcyclist their safety and even their financial stability. At Goings Law Firm, LLC, we want to protect motorcyclists and help them recover the compensation they are entitled to following a collision.
If you are injured in a serious motorcycle crash that wasn't your fault, contact the office of Goings Law Firm, LLC immediately. Our legal team is committed to helping motorcycle accident victims seek the compensation they deserve after a crash. For a free case evaluation, call our office today at (803) 350-9230.