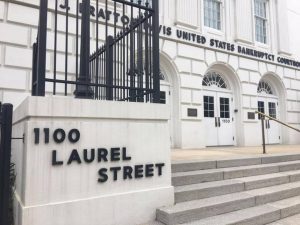 Columbia trial attorney Robert Goings successfully secured a $750,000 verdict on behalf of a law clerk who was injured when he fell on an excessively slippery staircase inside the U.S. Bankruptcy Court building in downtown Columbia. The individual, a law clerk for a federal bankruptcy judge, suffered a herniated disk and accrued $40,000 in medical bills, as well as additional and lasting pain from the injury.
Crockett Facilities Service, the Maryland-based company responsible for maintaining the courthouse, ultimately admitted responsibility, especially when it was revealed that the company had removed slip-resistant strips from the stairs and had polished the staircase immediately before the accident. Attorney Goings following the settlement had this statement: ""In any case, we are very pleased with the outcome. Most falls are preventable, and in this case, all Crockett had to do was buy a strip that only cost $1 or $2. It's a mistake that cost them $750,000."
For more information on this settlement, read The State article, and if you have been injured in an accident, make sure to contact The Goings Law Firm for the right representation for your claim. There is a reason why people turn to Robert Goings in their time of need, so contact us to find out why.