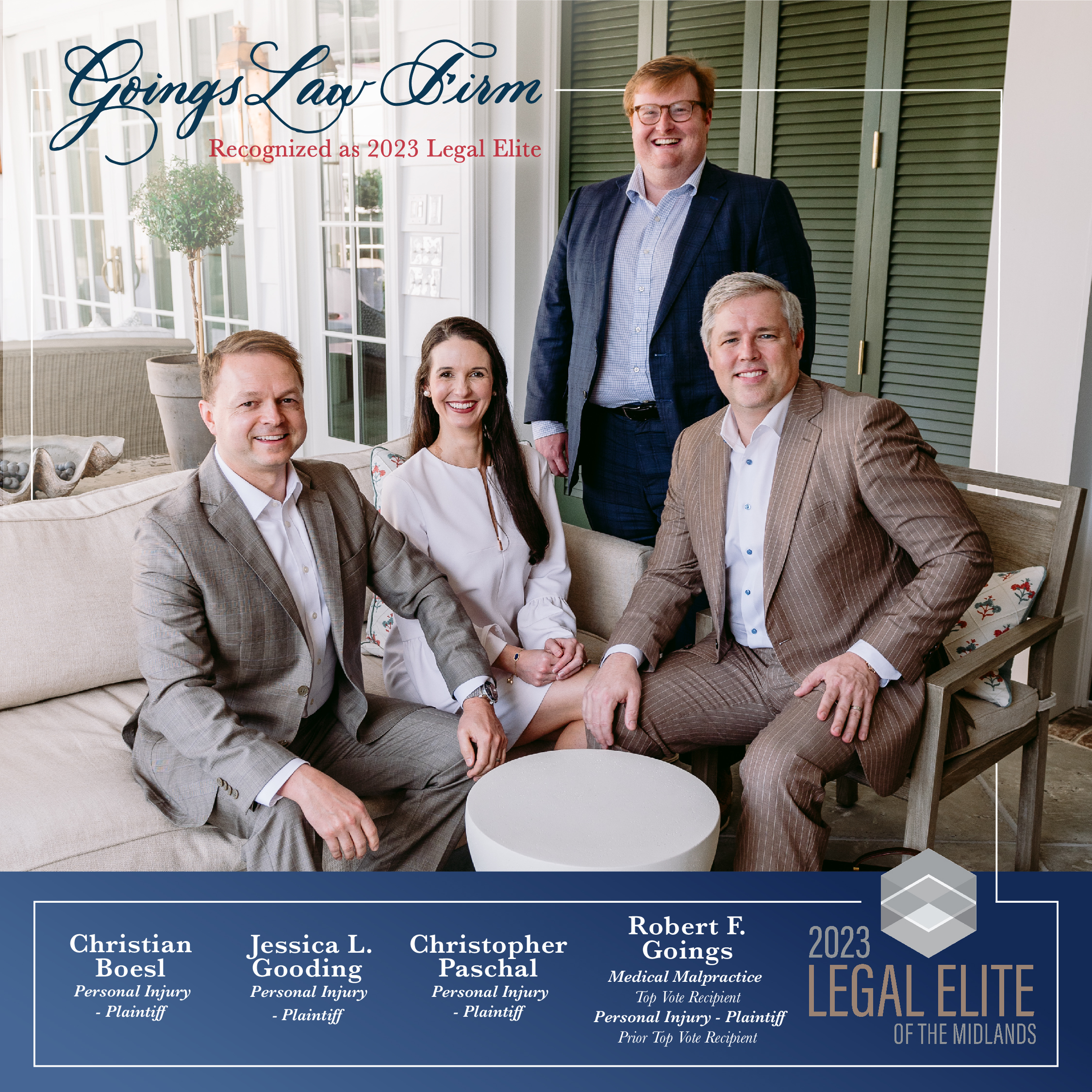 Goings Law Firm, LLC, a leading personal injury law firm based in Columbia, South Carolina, proudly announces that its attorneys, Robert F. Goings, Christian Boesl, Jessica Gooding, and Chris Paschal, have all been selected for 2023 Legal Elite in South Carolina, a distinguished South Carolina business publication. This recognition highlights the firm's commitment to excellence and the exceptional legal talent within its team. Not only is every attorney at the firm included as a Legal Elite, but the firm's founding attorney Robert F. Goings received the most votes as the "Top Vote Recipient" in the area of Medical Malpractice, nursing home, and hospital negligence. For this publication, Mr. Goings has previously received the most votes in the area of Personal Injury litigation, an honor that an attorney can only receive once. Since this publication first appeared in 2016, the attorneys at Goings Law Firm have been prominently considered among the very best in the state based on this publication.
The Legal Elite honor showcases outstanding attorneys across various practice areas, and Goings Law Firm is proud that all of its attorneys are featured in this prestigious listing, demonstrating their legal expertise and dedication to each client. We are honored that other attorneys and legal professionals have recognized our attorneys as "Elite" in our representation of clients," said Robert F. Goings of the Goings Law Firm. "This distinction is a testament that our firm comes highly recommended by other attorneys, and it is well known to others how hard we work to be the best law firm for our clients," he continued.
The 2023 Legal Elite feature will be showcased in prominent business publications, including Columbia Business Monthly, Greenville Business Magazine, and Charleston Business Magazine, further emphasizing Goings Law Firm's impact in the legal community, not only across the Midlands of South Carolina but across the entire state. A link to the magazine can be found here:
2023 Columbia Business Monthly August Legal Elite Issue
Goings Law Firm remains a trusted resource for those seeking real results in cases of catastrophic injury, wrongful death, workers' compensation, and beyond. With an impressive number of accolades to its name, Goings Law Firm retains its strong reputation as premiere personal injury attorneys across multiple practice areas.
The following attorneys from Goings Law Firm are being honored in the following categories:
Medical Malpractice:
Robert F. Goings (Top Vote Recipient)
Personal Injury – Plaintiff:
Robert F. Goings (Prior Top Vote Recipient)
Jessica L. Gooding
Christopher Paschal
Workers' Compensation – Plaintiff:
Christian Boesl
This well-deserved recognition in the 2023 Legal Elite cements Goings Law Firm's position as a beacon of legal excellence, serving clients with an unwavering dedication to fight for their stories. To learn more about each attorney at Goings Law Firm, please visit
goingslawfirm.com/about
.