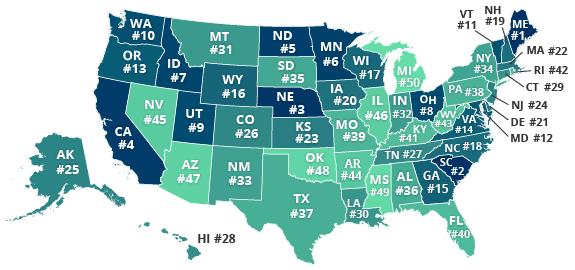 South Carolina Ranks #2 Worst Drivers in United States as a Result of Drunk Driving Statistics
Car crashes are a leading cause of death in the US and were expected to cause around 40,000 deaths by the end of 2018.
To put it plainly, America's roads are dangerous. Texting behind the wheel is a major reason for many traffic fatalities, and it's only getting worse. In 2016, 3,450 people were killed by distracted driving. Plus, cheap gas and a strong economy means America's 222 million licensed drivers are driving more than ever. More people on the road leads to more accidents and citations.
South Carolina was ranked No. 2 on QuoteWizard's list for "Best and Worst Drivers" across the United States. Last year, the State of South Carolina came in at No. 4, but an increase in DUIs brought it up in the rankings. Nearly half of all fatal crashes in South Carolina are because of drunk driving, according to the study. Drivers can blame an increase in DUIs for the jump from last year's rank as the fourth worst drivers to the second worst drivers this year.
However, South Carolina didn't nab the top spot when it comes to bad drivers — that was Maine; with Nebraska, California and North Dakota rounding out the Top 5.
Rankings for this study by QuoteWizard was determined by accidents, speeding tickets, DUIs, citations and fatalities in each state throughout the year.
The Goings Law Firm is committed to fighting drunk drivers in Court for the harm their cause to innocent people on the roads.  We have been awarded large verdicts and settlements for our clients against drunk drivers, and if you or a loved one has been injured or killed by a drunk driver, you may be entitled to financial compensation.  Call us today at (803) 350-9230 for a Free Consultation to see if we can help you.