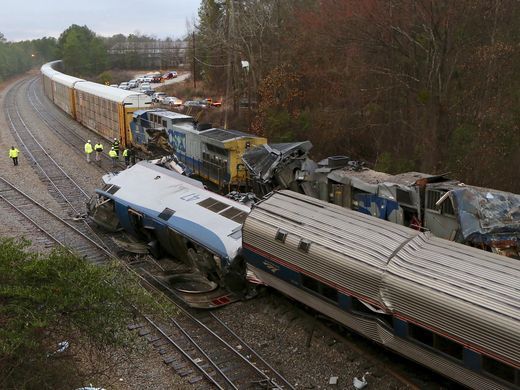 Amtrak, CSX train collision in South Carolina leaves 2 dead, 115+ injured
On Sunday morning, February 4, 2018, two people were killed in a crash involving a freight train and an Amtrak passenger train early Sunday in Columbia South Carolina, as the trains were traveling through the town of Cayce.
Amtrak Train 91 was traveling between New York and Miami with 147 people aboard when it collided with a CSX freight train in Cayce. At least 115 people were injured and transported to local hospitals, Lexington County spokesman Harrison Cahill said. Injuries ranged from scratches to broken bones.
The crash occurred at about 2:35 a.m., derailing the lead engine and some passenger cars, Amtrak said in a statement. About 5,000 gallons of fuel were spilled, authorities estimated, but Cahill said there was "no threat to the public at the time."
The National Transportation Safety Board (NTSB) has launched an investigation. Robert Sumwalt, the NTSB chairman, told CNN that an NTSB team will arrive in South Carolina Sunday morning to begin the investigation, which should take 12 to 18 months.
Investigators will hold a press conference Sunday afternoon, Sumwalt said.
Amtrak said in a statement the train's lead engine derailed, as did some passenger cars that was carrying eight crew members and approximately 139 passengers on board. TV footage from the crash scene showed the aftermath of the collision, with the Amtrak engine on its side and its front crumpled.