Columbia Auto Accident Causes Damage to Local Cemetery
On Monday August 3, 2015 an accident that occurred in downtown Columbia at the intersection of Sumter and Gervias Streets caused one of the cars to crash into the cemetery at Trinity Episcopal Church. The accident occurred because one driver failed to yield to a right-of-way and crashed into another car. The collision caused one of the cars to crash through a wrought iron fence, and some of the gravesto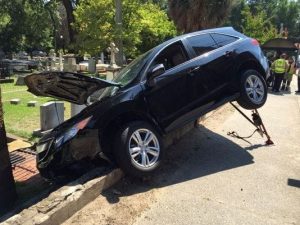 nes were damaged as a result of the collision. One of the drivers was taken to the hospital by ambulance. Trinity Episcopal Church is a historic church that is located directly across the street from the South Carolina State Capitol Building.
When an auto accident occurs, often times it can cause significant damage, to both the victims of the accident and to people and property surrounding the accident. At the Goings Law Firm, LLC we have developed significant experience in all types of automobile accidents, and we have developed a reputation for taking the at-fault driver and insurance companies to trial, when necessary.
If you or a loved one has been the victim of a South Carolina Auto Accident, then contact the Goings Law Firm, LLC today. Contact us by calling (803) 350-9230 for a free case consultation.
<