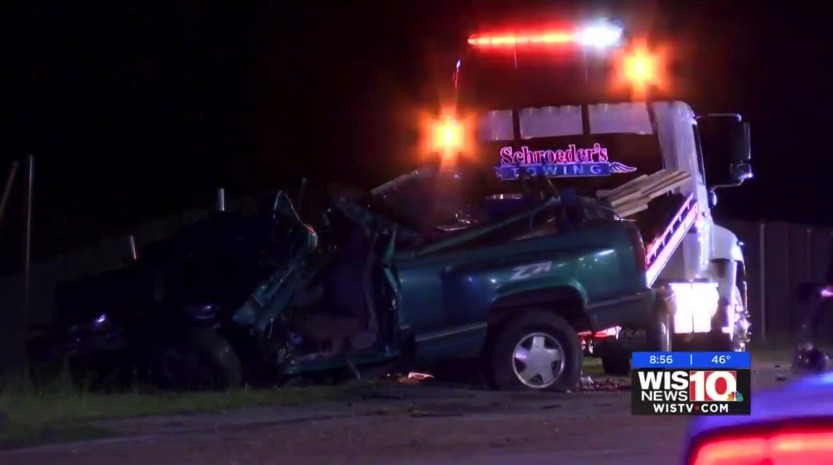 Tragedy can happen unexpectedly on our highways everyday.  Unfortunately, a gentleman named Calvin Casson of Columbia was killed on Monday, April 15, 2019 when when a tractor trailer truck collided head with him on Fernandina Road in Lexington County, South Carolina. According to the South Carolina Highway Patrol, a pickup truck driven by Casson was traveling east on Fernandina Road just after 7:00 p.m. when a large tractor trailer truck on I-26 went off the right side of the road, made its way through a fence, and collided head-on with the Mr. Casson's truck.   After striking Mr. Casson's truck, drove into a Dick Smith car dealership on Fernandina Road, hitting parked cars.  The first responders reported that Mr. Casson became entrapped in his vehicle and died on the scene. He was 51 years old.   The driver of the tractor-trailer suffered minor injuries.
Our thoughts and prayers go out to the family of Mr. Casson. Dealing with the loss of a family member from a collision is an unspeakable tragedy.  While the cause of this collision is still under investigation by the South Carolina Highway Patrol, our firm knows that often times these collisions are preventable if drivers of large commercial vehicles would follows the safety laws enacted to protect other motorists.  When traffic laws are violated, innocent people can be killed.
At the Goings Law Firm, it is our mission to ensure that families of loved ones who are killed on our roadways are fully compensated for the loss of their family member.  While no lawsuit against a tractor trailer company or its driver can fully bring back what was lost, our job is to leave the family in a better place that we found them.  A wrongful death case can provide monetary relief to a grieving family.  Wrongful death actions are designed to compensate for the current and the future financial and emotional costs to the deceased's family. These damages include the following:
Medical bills and funeral costs
Lost wages, including future earnings
Lost benefits
Pain and suffering
Mental anguish
Loss of support or companionship
Funeral expenses (unless these are recovered through a survival action)
Punitive damage (for willful, wanton, reckless, or intentional conduct)
Wrongful Death Lawsuits Against Tractor Trailer Drivers
South Carolina's wrongful death statute, S.C. Code Section 15-51-10 through 60, allows a lawsuit to be brought on behalf of the deceased's spouse and children when a family member has died due to the deliberate, reckless, or negligent actions of another. If there is no spouse or children, then the lawsuit is for the benefit of the deceased person's parents. If there is no spouse, children or parents, then the lawsuit is for the benefit of the deceased person's heirs (heirs are persons who are legally entitled to inherit property from the deceased). Under South Carolina law, the wrongful death action must be brought by (or in the name of) the executor or the administrator of the deceased person. An administrator or executor is a person or an institution that carries out the terms of a deceased's will or, if there's no will, distributes the deceased's property according to South Carolina's probate laws.
Lawyers for Wrongful Death in Columbia, South Carolina
If you need a wrongful death lawyer in South Carolina, please contact our office to assist you and your family. We can help you to with the wrongful death process to ensure that you and your family receive the compensation that you deserved.  It does not cost you anything for a consultation to learn about your rights under the law.