Miranda Mae Bailey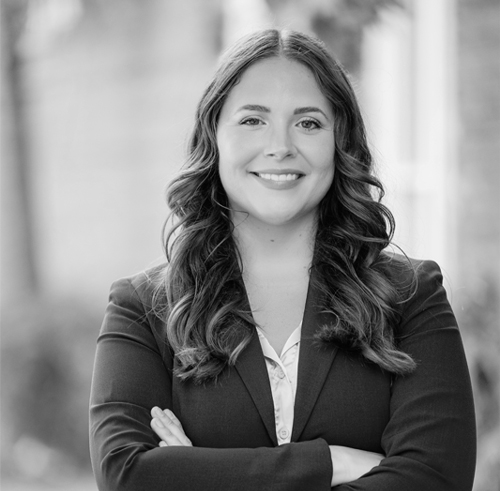 Miranda Mae Bailey is a dedicated attorney at Goings Law Firm, bringing a passion for justice and a diverse set of experiences to her role. Born in Michigan and raised with a strong connection to South Carolina, Miranda has family spanning across the state. Her roots are deeply embedded here, with a rich family history dating all the way back to the Mayflower.
With a journey that spans multiple states including Utah, South Carolina, North Carolina, Texas, Michigan, and Missouri, Miranda's life experiences have shaped her approach to the legal profession. She spent significant time in South Carolina during her summers, assisting her grandad on his farm and embracing the true essence of home.
Following her deep sense of community and service, Miranda spent nearly two years in Argentina on a church mission, solidifying her fluency in Spanish. This skill enables her to bridge language barriers, advocating for individuals who struggle to communicate in English, both within the legal sphere and her personal life. Volunteering at the Timpanogos Legal Center in Utah during her educational pursuits further showcased her commitment to aiding those in need through legal assistance.
Miranda's involvement in her religious community is a testament to her dedication to service. She currently serves as the local president for her church's international women's group, Relief Society, demonstrating her passion, leadership, and organizational abilities.
Education has always been a cornerstone of Miranda's journey. She attended Brigham Young University Law School, ranked as the 22nd best law school in the nation. During her time there, she exhibited exemplary academic prowess and actively participated in various extracurricular activities, including Moot Court and Mock Negotiation competitions. Additionally, Miranda held the position of Senior Editor on Law Review, further showcasing her commitment to legal scholarship. Miranda also spent time in DC, where she worked for the National Center on Sexual Exploitation to help fight sex trafficking, an area of justice that Miranda is very passionate about.
Driven by her desire to effect positive change, Miranda has actively engaged in issues related to civil rights and religious liberty. Her accomplishments include being chosen as a 2022 Civil Rights Fellow by the Center for Equal Opportunity and a 2022 Religious Liberty Fellow from the JRCLS.
Apart from her legal pursuits, Miranda has a passion for world travel, having visited 23 countries, with Switzerland and Uganda being her favorites so far. Her love for nature, sports, and spending quality time with family and friends underscores her well-rounded approach to life.
An avid listener who has always been motivated by her deep-seated desire to advocate for the marginalized and the oppressed, Miranda chose the legal profession as a means to effect meaningful change, ultimately propelling her to law school and eventually leading her to Goings Law Firm. As an attorney specializing in Workers' Compensation, Miranda endeavors to empower and uplift those who feel disregarded by their employers or doctors, utilizing her legal expertise to secure the justice they deserve.