External and Internal Bruising from Blunt Force Impacts in a Rollover Accident
If you were injured in a rollover crash due to someone else's negligence, contact the Columbia rollover accident lawyers of Goings Law Firm, LLC immediately. We might be able to represent you in your case and help pursue the compensation you deserve.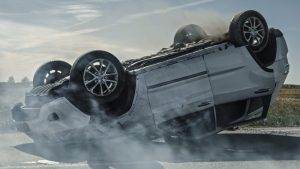 Bruising is a common injury suffered in motor vehicle accidents. The blunt force trauma to a person's body during the impact can lead to significant physical harm. Although many bruises can heal without much medical intervention, some are severe and require emergency care.
The location of the internal bruise will determine the necessary treatment. For example, a brain bruise can occur when a vehicle occupant hits their head on the steering wheel or window. It can cause swelling, bleeding, and other symptoms. Without the appropriate treatment, it could become fatal.
At Goings Law Firm, LLC, we understand the trauma you face after a rollover accident. It's a disruptive experience that affects every part of your life. You might need to take time off work to recover, resulting in a loss of income. If you can't afford the expensive medical bills for your treatment, you could end up in massive debt. The negligent party that caused your injuries should be financially responsible for your expenses.
If you want to learn more about how we can help you after a rollover crash, call us at (803) 350-9230 for your free consultation.
What Are Bruises?
A bruise happens when trauma to a person's body causes blood to pool underneath the skin. This occurs because blood vessels leak from the damage. Bruises often look brown, purple, or black and blue. As they heal, the color can change. External bleeding doesn't occur unless there's an open wound.
Bruises fall into three main categories, depending on the part of the body that suffered trauma:
Intramuscular – Bruising to the muscles
Subcutaneous – Bruising just below the skin
Periosteal – Bone bruising
The primary sign of a bruise is skin discoloration. It's often referred to as "black and blue" because those are the colors of the skin following this type of injury. Tenderness and pain at the injury site also occur.
Internal bruising is more serious than an external bruise. It can affect tissues, muscles, and even internal organs. Common symptoms of internal bruising include:
Hematoma, or pooling blood around the site of the injury
Pain and tenderness
Reduced range of motion in joints near the bruise
Bruising beneath the skin
A catastrophic accident like a rollover crash can lead to severe internal bleeding and shock. You should go to the hospital immediately if you experience symptoms, such as:
Rapid pulse
Fever of 100.4 degrees or higher
Dizziness
Confusion
Pale skin
Fainting
Vomiting or nausea
Numbness, weakness, or pain in one or both legs
Worsening symptoms
Since a bruise could indicate underlying injuries, it's critical to seek medical treatment after leaving the accident scene. You might need surgery to stop internal bleeding or drain excess fluid around an organ.
Physical therapy and rehabilitation also become necessary if the bruising affects your muscles or bones so you can regain strength and mobility. A doctor can evaluate your physical condition, perform X-rays, and determine whether you suffered any internal damage. They can recommend a treatment plan based on the location of your bruising and its severity.
Common Causes of Rollover Accidents
Trucks and SUVs have a high center of gravity, making them susceptible to rolling over in accidents. However, even small cars can roll if the right circumstances exist.
A sudden change in momentum of the vehicle combined with other factors, such as jumping a curb, could cause it to tip on its side or rollover entirely during a collision.
Vehicle accidents are often the result of human error. When drivers behave recklessly, they place other people at risk of harm. The most common causes of rollover accidents include:
Turning too quickly
Sudden braking or maneuvering
Driving above the speed limit or too fast for conditions
Steering overcorrection
Unsafe lane changes
Weaving in and out of traffic
Drifting off the road
You might be entitled to financial compensation if you were involved in a rollover accident due to one of these contributing factors. The at-fault driver could be held liable for causing your internal or external bruising. You likely require some form of medical care following the collision and should receive the money you need to pay these costs.
Compensation Available for Internal and External Bruising
South Carolina is a fault car accident state. That means the driver responsible for the crash becomes liable for the victim's resulting losses, such as
Medical bills
Property damage
Emotional distress
Loss of enjoyment of life
Pain and suffering
Lost wages
Lost earning capacity
You could pursue compensation by filing a claim with the at-fault motorist's auto insurance company. State law requires liability insurance with minimum coverage limits of $25,000 per person for bodily injury, with a maximum of $50,000 for all people injured in one crash. $25,000 of property damage liability coverage is also required.  If there's adequate coverage, you could be compensated for your total losses through the at-fault party's insurance.
Filing a Lawsuit After a Rollover Accident
Another option for compensating for your losses is to file a lawsuit against the at-fault driver. You must observe a statute of limitations, which is a strict timeframe for initiating a lawsuit against another person.
South Carolina has a three-year statute of limitations. That means you must file suit within three years of the crash date if you want to pursue compensation.
Certain exceptions could extend the statute or pause the running of the clock for this civil action. They include:
Absence from the state – If the defendant leaves South Carolina temporarily before you initiate your lawsuit in court, the clock would pause and only begin again when that person returns.
Legal disability – You are under a legal disability if you are under 18 years old or declared insane at the time of the crash. The statute would not start to run until you turn 18 or gain mental competency.
It's complicated to try to delay the statute of limitations in cases like this. Specific legal documents are required, and you must file a motion with the court. An experienced lawyer can assist you with this process.
Contact Us
If another person's negligence caused your internal or external bruising in a rollover accident, do not hesitate to contact Goings Law Firm, LLC. We can review your case and determine a legal strategy to seek the justice and compensation you deserve.
Contact us today at (803) 350-9230 for a free consultation and let us help you get on the road to recovery.