Columbia Attorneys for Blood Loss from Rollover Accidents
One of the most traumatic types of traffic accidents is the rollover. This means that your vehicle flipped onto its side or roof as the result of a collision. Jagged metal and broken glass punctured you or a loved one's soft body tissue. Possibly, this injury resulted in external and possibly internal blood loss.
After you or someone close to you receives medical help following the accident, contact the Columbia rollover accident lawyers at Goings Law Firm, LLC. Our attorneys have helped clients in your area build and win compensation cases for these types of injuries for years. Call us at (803) 350-9230, or fill out our free case evaluation form online. We will get back to you without delay. One of our experienced legal team will review the details of your accident free of charge to determine whether you or a loved one is entitled to compensation for the physical, emotional, and economic damages you sustained in the accident.
Do I Need a Rollover Accident Lawyer to Represent Me in My  Blood Loss Case?
The short answer to this question is yes. Hundreds of details must be gathered, documented, and organized in order to present a strong case on your behalf. Blood loss injuries are complicated and can lead to devastating effects on your health long-term. Broken glass and jagged pieces of metal can cause blood to seep from your soft tissue wounds, but the damage you don't see can be much worse.
Your injuries can cause internal problems as well. Your injury may have led to hemorrhage, which is bleeding from a damaged blood vessel. This can lead to organ damage and even death.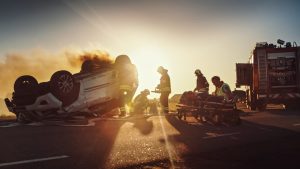 The types of injuries from a motor vehicle accident that can cause a hemorrhage are:
Don't rely on the insurance company to give you just compensation for your damages. They will fiercely protect their bottom line and will not willingly give you any money if they can find a reason to deny your claim. Call firm-name] before you talk with the at-fault driver's insurance company. Our attorneys will handle all of the paperwork, phone calls, police reports, witness statements, and the red tape involved in filing your claim, just as we do for all of our clients.
Why Choose The Columbia Rollover Accident Attorneys of Goings Law Firm, LLC to Handle Your Claim?
Our attorneys have a personal stake in winning just compensation for clients whose lacerations from jagged metal and glass have resulted in serious injury. The Goings Law Firm, LLC legal team are citizens of South Carolina, just as you are, and they maintain a firm commitment to helping people to continue to live the good life in our state. They will fight for you every step of the way to win the just compensation you deserve.
Our top-notch attorneys are members of the American Board of Trial Advocates, nationally and in South Carolina. But our clients' testimonials are just as important to us as the many accolades we receive from our peers. One individual spoke glowingly of the personal attention the team provided to help him navigate his traffic accident case. He was also very grateful to them for answering all of his questions.
Another accident victim stated, "Goings took the bull by the horns and was tenacious in representing me and my family members."  Like you, These clients have gone through pain and suffering due to their traffic accidents. And, clearly, they are extremely grateful that they contacted Goings Law Firm, LLC. These clients regained their peace of mind, knowing they were in capable legal hands.
How Much Money Can I Get for My Blood Loss Injuries?
South Carolina is a fault state, meaning that the person whose negligence caused the accident must pay for medical, economic, and other damages. You can still be compensated for your losses if you were partially at fault for the accident, but only if you were less than 51% at fault. If you were more than 51% responsible for the crash, you will not be eligible to collect any compensation at all.
The amount of compensation you or a loved one can receive for your rollover accident depends on the extent of your damages. A laceration can cause external and internal bleeding. A significant puncture wound can lead to profuse bleeding if it isn't treated promptly and properly, which can then lead to organ damage. If the cut is over a broken bone, and your wound is a result of broken glass or sharp pieces of metal from your accident, you may incur deep tissue damage to your muscles, ligaments, bones, and tendons.
Even if you believe that your cuts and bruises are minor, they may result in internal complications. Damage to one or more major organs is a possibility. People who have genetic conditions that prevent the blood from clotting and those who are on a blood thinner medication are even more at risk after losing too much blood. Any of these scenarios could cause devastating health issues and costly ongoing medical care, home health services, and rehabilitation for you or a loved one.
The details of your accident are of the utmost importance when building a claim for a rollover accident that resulted in blood loss from jagged metal or glass. You need an experienced Columbia legal team on your side. Goings Law Firm, LLC has won millions of dollars for their clients because they know how to collect and present the medical reports and other records that are necessary to win compensation for their clients who've suffered significant blood loss following a rollover accident.
Compensation for the following can be awarded, whether your case is settled out of court or brought to trial:
Blood loss injuries
Medical care
Physical rehabilitation
Emotional rehabilitation
Damage to your property (vehicle and personal items)
Lost wages
Inability to return to work
Loss of companionship
Funeral expenses
Don't Wait. Let Us Help You Today
Once you recover the strength to go after the compensation you deserve for your blood loss injuries from jagged metal or glass in a rollover accident, contact the legal team at Goings Law Firm, LLC. Despite having handled scores of accident cases for Columbia residents, the team will treat you with the same level of compassion and attention to detail as they do for every client every day.
The car accident attorneys at Goings Law Firm, LLC will determine whether a negligent driver caused the collision. Depending on the extent of your injuries and subsequent complications, you may be entitled to get the money you need to pay for medical bills, vehicle repairs or replacement, long-term health care, and the loss of your wage-earning ability. Call us at (803) 350-9230 or fill out the free case evaluation form online today to get a winning legal team on your side.