Columbia Attorneys for Internal Bleeding and Punctured Organs Caused By Rollover Accidents
If you suffered internal injuries in a rollover accident due to someone else's negligent actions, do not hesitate to contact Goings Law Firm, LLC. You might be entitled to compensation for the medical expenses and additional costs you incurred.
Treating internal injuries, such as punctured organs and internal bleeding can be expensive. Many people require surgery to repair the damage, while others need ongoing rehabilitation or physical therapy. Medical bills are a significant expense that many people can't afford. You could face financial strain and debt during your recovery.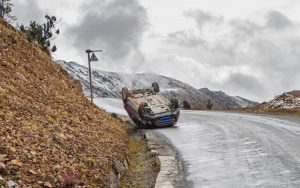 At Goings Law Firm, LLC, we understand the struggles of healing after a rollover accident. Rollover crashes can cause some of the most debilitating and life-threatening injuries. The body can't handle the violent and extreme forces it experiences as a vehicle rolls and collides with the ground and nearby objects. Sometimes, shrapnel and other sharp debris cause penetrating injuries, damaging internal organs.
You deserve the opportunity to pursue compensation and hold the at-fault party liable for their misconduct. The money you receive in an insurance claim or a lawsuit should compensate you for your losses, so you're not forced to pay out of pocket. Someone else's negligence resulted in your internal injuries, and they should suffer the consequences of their actions.
Call the Columbia rollover car accident lawyers of Goings Law Firm, LLC at (803) 350-9230 right now for your free consultation to learn more about how we can help you after a rollover accident.
Common Types of Internal Injuries in Rollover Accidents
A rollover crash is a violent accident that occurs when a vehicle tips over onto its side or roof. Sometimes, the car can roll multiple times from the momentum and force of colliding with another vehicle or stationary object.
Multiple types of internal injuries can result from a rollover accident, especially if the occupants of a car aren't wearing seatbelts or the airbags don't deploy. The two most common injuries are internal bleeding and punctured organs.
Internal Bleeding
Internal bleeding is common in rollover accidents because the body experiences blunt force trauma, causing blood vessels to rupture. When that happens, blood leaks into the body and the vessels have trouble repairing themselves.
Symptoms of internal bleeding vary depending on the part of the body affected. For example, an abdominal bleed can cause abdominal pain and shortness of breath, while bleeding into the joints or muscles can lead to joint pain and decreased range of motion.
Punctured Organs
During the impact of a rollover crash, organ damage can also occur from blunt force trauma. The organs can rupture or become punctured if sharp debris impales the body.
Rollover accidents often launch vehicle parts and shrapnel in all directions. Sharp pieces of metal can fly through the air and enter someone's body at a high rate of speed. Emergency medical care is necessary to repair the damage if debris pierces an organ.
Broken bones can also lead to punctured organs. For example, a bone fragment from a fractured rib can puncture the lung, causing trouble breathing and other debilitating symptoms. Without prompt and adequate medical attention, pieces of bone traveling throughout the body can damage organs, nerves, tissue, and other structures.
Common Causes of Rollover Accidents
Commercial trucks, SUVs, and other vehicles with a high center of gravity can tip over or roll easily under certain circumstances. The sudden change in momentum from braking, swerving, or taking a sharp turn can cause a vehicle to roll over. A collision with another car or a curb can also generate enough force to lift the tires off the ground and tip the vehicle onto the side or hood.
The most common causes of rollover crashes include:
Unsafe lane changes
Sudden braking
Driving too fast for poor road conditions
Taking a turn too fast
Tailgating
Merging without checking blind spots
Running a red light or stop sign at an intersection
Overcorrecting steering
Sudden maneuvering of the vehicle
If you were involved in a rollover accident due to any of these scenarios, you should contact Goings Law Firm, LLC immediately. We can investigate the crash and determine whether another driver should be held liable for your internal injuries.
Compensation for Internal Bleeding and Punctured Organs
All South Carolina drivers must carry auto liability insurance with minimum bodily injury and property damage limits. The coverage is available if the motorist causes an accident, leading to someone else's injuries.
You could file a claim with the at-fault driver's liability insurance carrier and negotiate a settlement. The compensation you receive could cover a range of losses suffered in the rollover accident, such as:
Lost wages
Lost earning capacity
Medical expenses
Out-of-pocket expenses
Scarring and disfigurement
Emotional distress
Loss of enjoyment of life
Pain and suffering
Property damage
Unfortunately, insurance companies want to avoid significant settlements. You might face challenges negotiating a settlement sufficient to compensate you for your total losses. If the insurance company denies your claim or offers a low amount, it might be necessary to file a lawsuit.
You could recover punitive damages in a lawsuit against the at-fault driver. The jury only awards this form of compensation if the plaintiff can provide clear and convincing evidence of the defendant's wanton, willful, or reckless conduct.
Filing a Lawsuit After a Rollover Accident in Columbia
State law requires following a specific timeframe to sue someone for injuries caused in an accident. South Carolina has a three-year statute of limitations.
That means you must file your lawsuit within three years of the rollover crash. If the statute expires before you get a chance to initiate your lawsuit, you could lose your right to seek compensation for your internal injuries through the court system.
Contact Us
At Goings Law Firm, LLC, we dedicate our time and attention to each case we take. You will be our top priority while we represent you against the negligent driver and their insurance company. We always advocate for our clients and aggressively pursue the maximum compensation possible.
If you suffered a punctured organ or internal bleeding in a rollover accident, call Goings Law Firm, LLC today. One of our Columbia rollover accident attorneys can meet with you to discuss what happened and advise you about the available legal options. Call now at (803) 350-9230 for your free consultation.