Tow Truck Accident Lawyer in Columbia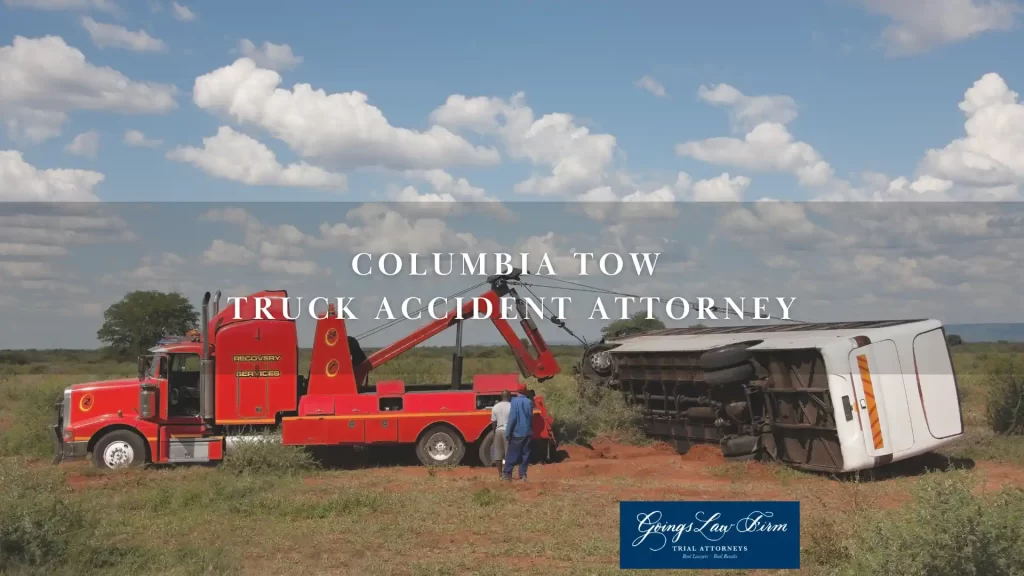 If you got hurt in a tow truck accident that someone else caused, contact our tow truck lawyers in Columbia immediately at (803) 350-9230. We'll review your case for free and determine what we can do to help.
Tow trucks are essential for removing cars from ditches, accident scenes, and other areas. They also come in handy if you need someone to tow your car after it breaks down on the side of the road. Although necessary, tow trucks can be dangerous and cause severe injuries in collisions with smaller vehicles.
Common Types of Tow Truck Accidents
We handle numerous types of tow truck accidents in Columbia, such as:
Head-on collisions – Head-on accidents are one of the deadliest types of roadway collisions. According to the Insurance Information Institute, head-on collisions caused 3,631 fatalities nationwide in one year. A tow truck driver might cause a head-on accident if they look down at their cell phone and drift into oncoming traffic.
Rear-end collisions – Tailgating commonly leads to rear-end crashes. If a tow truck driver follows another vehicle too closely, they don't have enough space or time to brake and avoid a collision if traffic suddenly stops.
Sideswipe collisions – A tow truck driver might sideswipe someone's car if they change lanes without checking blind spots. They could start merging without realizing another driver is traveling alongside their truck.
T-bone collisions – A T-bone accident involves the front of one vehicle crashing into the side of another. It can occur if a tow truck driver runs a red light or stop sign. The path ahead isn't clear, so they slam into a car already in the middle of the intersection.
Rollover accidents – Like SUVs and larger vehicles, tow trucks have a high center of gravity. They are likelier to roll or tip over after a sharp turn, sudden maneuvering, or contact with a curb at high speeds.
Common Causes of Tow Truck Accidents 
Tow truck drivers must remove and transport vehicles under various circumstances regardless of the dangers. They might have to pull a vehicle from a steep hill during a severe storm or remove an abandoned car from a busy highway.
Anyone who wants to drive a tow truck must pass a background check, take tests, and undergo training. A commercial driver's license (CDL) is also a requirement if the tow truck is 26,001 pounds or heavier.
Despite the regulations, some tow truck drivers violate traffic laws or engage in behavior that endangers other people on the road. When that happens, an accident can occur.
The most common causes of tow truck accidents include:
Distracted driving
Improperly attaching or securing a vehicle to the tow truck
Speeding
Poor vehicle maintenance
Tailgating
Driving under the influence
Unsafe lane changes
Failing to check blind spots
Fatigued driving
Common Injuries Caused by Tow Truck Accidents
Although many tow trucks aren't as massive as other commercial vehicles like tractor-trailers, they can cause significant property damage and debilitating injuries during collisions with smaller vehicles. Injuries range in severity depending on the type of collision and other factors.
The most common injuries in tow truck accidents include:
Whiplash
Paralysis
Lacerations
Internal bleeding
Significant disfigurement or scarring
Disability
Who Is Liable for a Tow Truck Accident? 
Several different parties could be liable for your injuries following a tow truck accident, such as:
Driver – The tow truck driver might be liable for their negligent actions, like tailgating or running a red light that led to the collision.
Towing company – The company that employed the driver can be liable for hiring them without conducting a background check or providing inadequate training.
Manufacturer – If a defective tow truck or part caused the crash, the manufacturer could be liable for causing the defect and supplying it to the towing company.
Maintenance company – If a company performed maintenance on the truck and failed to detect a problem or incorrectly repaired the vehicle, and their failure or improper repair caused the crash, they could be held liable. 
Goings Law Firm, LLC believes in holding people liable for their misconduct. We can help you bring legal action against a negligent tow truck driver for injuries and damages they caused. Call us at (803) 350-9230 for a free consultation with our experienced Columbia tow truck accident attorneys.
Compensation for Injuries in a Tow Truck Accident 
South Carolina law requires every towing service provider to carry liability insurance with minimum limits based on the class of the tow truck.
At least $300,000 in liability coverage is mandatory for class A tow trucks used to tow vehicles weighing no more than 7,000 pounds, such as:
Small trailers
Pickup trucks
Passenger cars
Motorcycles
Other similar vehicles
Class B tow trucks must have $500,000 in liability insurance if towing vehicles weighing between 7,001 and 17,000 pounds or multiple vehicles weighing 7,000 pounds, such as:
Road tractors/trailers
Medium-sized trucks
Other similar vehicles
Class C trucks tow vehicles over 17,000 pounds, such as large trucks, road tractor-trailers, and other similar vehicles. The minimum required liability insurance is $750,000.
You can file a claim or lawsuit against the towing company or tow truck driver for compensation to cover your:
Lost income
Lost earning capacity
Pain and suffering
Emergency room visits, ambulance services, rehab, and other medical expenses
Emotional distress
Loss of enjoyment of life
Property damage
Deadline to File a Lawsuit in Columbia 
In South Carolina, the statute of limitations allows a three-year timeframe to initiate a lawsuit against another party. That means you have three years from the tow truck crash date to file suit against the tow truck driver, towing company, or another liable party.
Contact a Dedicated Columbia Tow Truck Accident Attorney Now 
At Goings Law Firm, LLC, we don't want you to suffer more than you already have. You deserve to hold the negligent party responsible for the harm they caused. You can count on us to fight by your side until the end for the compensation you deserve after a crash that wasn't your fault.
If someone else's careless actions caused your injuries in a tow truck accident, call our specialized truck accident lawyers today at (803) 350-9230 for a free consultation.
Related reading: