Tanker Truck Accident Lawyer in Columbia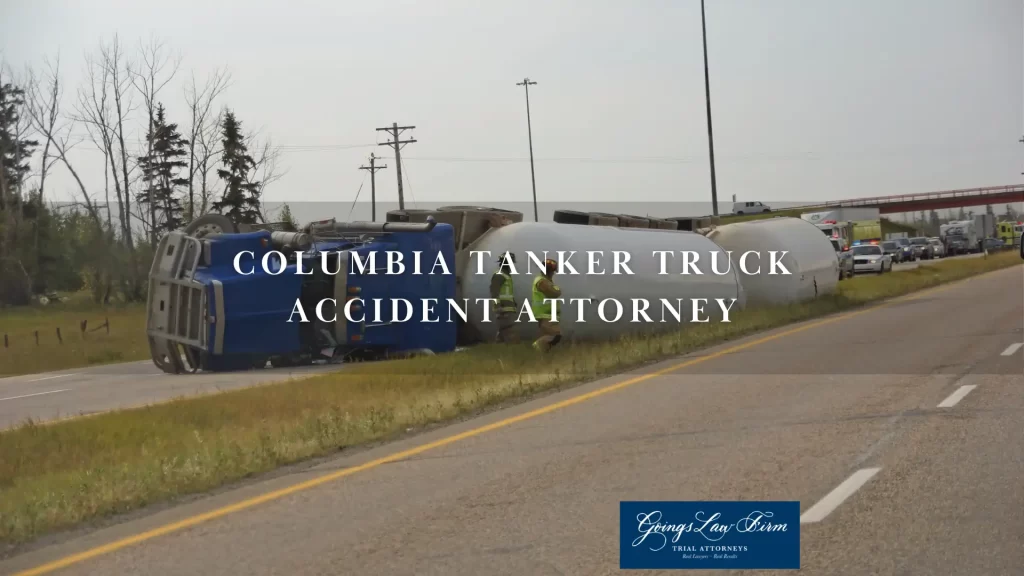 Gas or fuel trucks are tanker trucks. However, tanker trucks also transport other liquids. They can carry consumable and non-consumable liquids. These include gasoline, chemicals, sewage, milk, water, and wine. Accidents involving tanker trucks can be devastating. Their weight is a significant factor. The materials they carry could cause additional damage.
You may be able to recover compensation if the tanker truck driver's negligence caused your injuries. Contact one of Goings Law Firm, LLC 's experienced Columbia truck accident attorneys to preserve your rights and increase your chances of receiving maximum compensation. You can reach us by calling (803) 350-9230 or contacting us through our online form for a free case evaluation.
Causes of Tanker Truck Accidents in Columbia
Tanker truck accidents can lead to more devastating injuries than other car crashes because trucks are more massive in size and weight than passenger vehicles. Furthermore, an explosion could occur when a tanker truck carrying flammables collides with another vehicle.
To recover compensation, you must show that someone else's negligence caused the collision. Driver negligence may include the following:
Speeding
Driving under the influence
Distracted driving
Driving aggressively, such as swerving in and out of traffic
Driver fatigue
Inexperienced driving
In addition to the tanker driver's negligence, the employer or truck owner may also face negligence charges if they fail to maintain the vehicle or hire an experienced driver.
Read more: How Truck Accidents Are Different From Other Auto Accidents
Types of Tanker Truck Accidents
We often see collisions of the following sorts:
Rear-end collisions: Tanker trucks weigh more than an average passenger vehicle. As a result, it takes a lot longer for them to slow down. If a tanker truck driver is speeding or is driving while distracted, it can cause a rear-end collision, resulting in severe injuries.
Jackknife accidents: When tanker trucks stop quickly or try and swerve to avoid hitting another vehicle, they may jackknife, which means that the cabin and the trailer bend in toward each other. These accidents can cause pile-up collisions because other cars are trying to avoid a large trailer blocking the roadway.
Rollover accidents: Tanker trucks have a higher center of gravity than other types of trucks. Because of their top-heaviness, they are prone to rolling over if the driver takes a turn at too high a speed.
Override accidents: When a tanker blows through a red light or stop sign, the driver of a vehicle approaching from the side could run under the trailer in an "override" accident. This type of collision could also result when a trucker fails to check blind spots before changing lanes and catches a passenger vehicle beneath the trailer.
Common Tanker Truck Injuries
Common injuries sustained from tanker truck accidents include:
Whiplash
Head injuries
Scarring and disfigurement
Recoverable Compensation in Tanker Truck Accidents in Columbia
Even if you don't suffer a severe injury, you may still qualify for compensation for your accident-related injuries and losses. You could be eligible for money to cover:
Past and future medical expenses
Physical therapy costs
Lost wages
Reduced earning of capacity
Mental anguish
Pain and suffering
Property damage
If you were seriously injured, you could require medical treatment for long periods, maybe even indefinitely. An experienced Columbia truck accident attorney will review the facts of your case and ensure that you are requesting the compensation you deserve.
If your case goes to trial, you may be able to seek punitive damages if you can prove by clear and convincing evidence that the negligent party's conduct was willful, wanton, or reckless. Punitive damages are meant to punish the defendant for their actions.
Read more: How Are Medical Bills Paid After an Accident
Who Could Be Responsible for Tanker Truck Accidents in Columbia
If you were injured in a tanker truck accident because of someone else's negligence, you could file an insurance claim or a lawsuit against the liable parties demanding compensation. For example, the following parties could be liable in a tanker truck accident:
The driver: If the tanker driver's actions or inactions caused the collision, they could be held liable for the losses resulting from the collision.
The trucking company: If the trucking company hires an inexperienced driver or allows a driver to break laws or regulations, the trucking company could be held liable for the collision.
The cargo company: If a cargo company is responsible for loading the tanker truck and fail to load it properly, and that failure causes a crash, the cargo company could be held liable for the damages caused.
The mechanic: If a mechanic is responsible for adequately maintaining and repairing the tanker truck but fails to do so and that failure causes a collision, the mechanic could be held liable.
The truck or parts manufacturer: If a component or system on the tanker fails and causes a crash, the manufacturer of the truck or the specific failed part could be held liable.
Related Pages:
Tanker Truck Regulations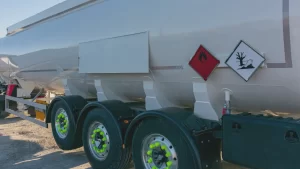 Several state and federal regulations may apply to tanker trucks, including:
Read more: What Are Truck Driver Training Requirements?
Contact an Experienced Tanker Truck Attorney Today
The Columbia truck accident attorneys of Goings Law Firm, LLC have experience representing clients in tanker truck accidents and getting them the compensation they deserve from negligent parties.
You can seek compensation to cover your losses from a tanker truck driver or company if their negligence caused your injuries. Contact our tanker truck accident attorneys by calling us at (803) 350-9230 or through our online form for a free case evaluation and to learn more about your options to get compensation for your injuries.
Related reading: