Moving Truck Accident Lawyer in Columbia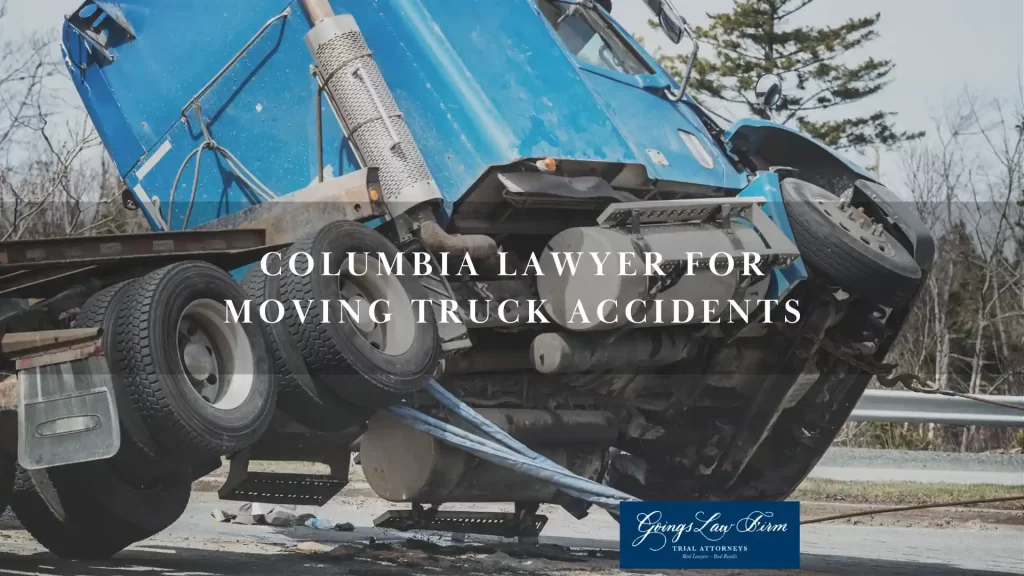 The large number of moving trucks on the streets and roads of South Carolina means there is a high potential for truck accidents. This danger is especially acute if the driver is inexperienced. If you have suffered injuries in a moving truck accident that wasn't your fault, you may be eligible to claim compensation for your losses. The moving truck accident lawyers of Goings Law Firm, LLC in Columbia have the experience and skill to navigate the distinct challenges of filing a claim against a commercial business. We will craft a strong case for you to optimize your chances of recovering the compensation you deserve.
Call us today at (803) 350-9230 or for a free consultation to learn more about how we can help you.
Causes of Moving Truck Accidents in Columbia
Moving truck accidents can happen for several reasons. These include:
The driver was inexperienced – Typically, operating large commercial vehicles requires special licensing, yet some moving truck companies allow minimally experienced drivers to handle these massive vehicles, posing a risk to others.
The driver was distracted – Despite various distractions, moving truck drivers must focus on the road. Distractions like GPS, texting, or eating while driving can lead to severe accidents due to negligence.
The driver was drowsy – Long working hours without adequate breaks can lead to driver fatigue, impairing their alertness to hazards and increasing accident risks. Both the moving company and the driver could be at fault for such practices.
The driver was speeding – The demanding schedules may pressure drivers to rush, often resulting in speeding and endangering others on the road.
The driver was under the influence – Operating vehicles while under the influence of drugs or alcohol impairs judgment and reaction time, often leading to severe accidents.
Somebody loaded the vehicle improperly – Moving trucks require specific loading protocols for stability. If disregarded, it could lead to challenging vehicle maneuvering and increased accident risks.
The moving company did not maintain the vehicle properly – Regular maintenance is crucial, especially for commercial vehicles. Mechanical failures could trigger accidents if the moving company or its employees neglect this.
Moving Truck Accidents and Injuries
Like most large vehicles, moving trucks can be involved in accidents such as:
Head-on collisions
Rear-end collisions
Override accidents
Underride accidents
Sideswipe accidents
Rollovers
Moving trucks are much larger than passenger vehicles. As such, collisions with moving trucks have a much higher chance of severe property damage and life-changing injuries to the drivers and passengers in smaller vehicles. In some cases, these accidents can lead to:
Organ damage
Limb amputation
Cuts and scarring
Whiplash
Any of these injuries can require immediate and ongoing medical intervention, leading to high medical costs and pain and suffering. You may also be prevented from returning to work while you recover, which can lead to lost wages.
Multiple Defendants in a Moving Truck Accident Claim
As with other commercial vehicles, multiple parties may be liable for your losses after a collision with a moving truck. These parties include:
Driver – If the driver of the moving truck was negligent while operating their vehicle, they might be liable for the accident whether they were renting the truck or working as an employee of a moving company.
Moving company – If the driver was an employee of a moving company, the employer may also be held liable for your losses. They could be liable because they failed to check the driver's qualifications or driving record or provide training for the type of truck they were driving.
Mechanic or repair service – If the accident happened due to a faulty repair, the person or company who last carried out maintenance checks on the truck could be held liable.
Vehicle or parts manufacturer – If a defective vehicle part caused your injuries, the manufacturer might be at fault.
Vehicle loader – If the accident occurred because of vehicle instability due to improper loading, those who loaded the truck may bear some responsibility for your losses.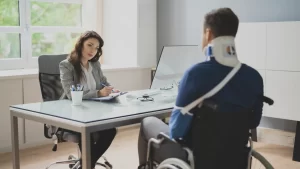 While filing a claim against multiple parties can be complex, doing so can help you recover fair compensation if one party's insurance policy cannot cover your losses. An experienced moving truck accident attorney can help you handle a case with multiple defendants.
Related Pages:
Contact an Experienced Columbia Moving Truck Accident Lawyer
If you have suffered injuries in an accident with a moving truck in South Carolina, speak with a seasoned truck accident lawyer as soon as possible. The skilled and knowledgeable Columbia moving truck accident lawyers of Goings Law Firm, LLC will help you navigate every stage of your claim, and we will fight assertively for the compensation you deserve.
Call us today at (803) 350-9230 for a free consultation.
Related reading: