Christopher M. Paschal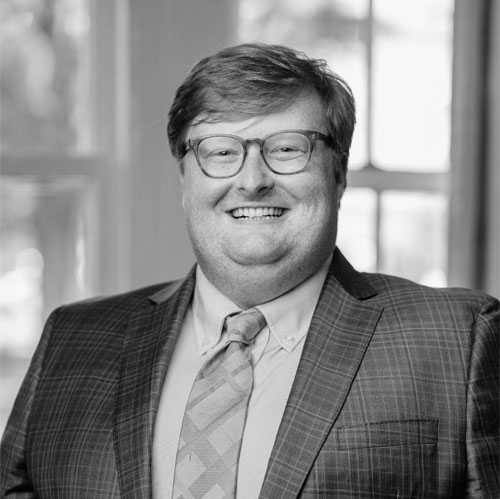 Christopher M. Paschal is originally from Charlotte, North Carolina, where he attended the Charlotte Latin School. There, he was elected as Student Body President, was selected to be the team captain of the football team, and was award the Headmaster's Award for Leadership.
Chris is a 2017 graduate of Wofford College in Spartanburg, South Carolina. He received his Bachelor of Arts degree in Government with a Concentration in Political Thought. While at Wofford, Chris was a Student Advocate in the Wofford Judicial System where he fought and advocated for Wofford students charged with Student Conduct Violations. He was elected as Student Body President in 2016. Upon graduation, he received the American Legion Award. Chris continues to be active with Wofford College and is a member of the Terrier Club.
Following Wofford, Chris earned his Juris Doctorate in 2020 from the University of South Carolina School of Law. Throughout law school, Chris was heavily involved with the Mock Trial program and was a member of both the 2019 and 2020 Glenn Family Mock Trial Competition Championship teams. He was named the Best Overall Advocate in the 2020 competition. Chris was also a member of both the 2019 and 2020 National Trial Competition Region V Championship teams where he was named an Outstanding Advocate in 2019. In addition, Chris received the Honorable Lewis F. Powell Medallion for Excellence in Trial Advocacy in 2019 and 2020. Upon graduation, Chris was recognized with the Reece Williams Trial Advocacy Award and the Robert McCormick Figg Trial Advocacy Award.
During his time at the University of South Carolina School of Law, Chris clerked for Goings Law Firm beginning during the summer between his first and second year of law school. He joined the Goings Law Firm as an attorney after graduation and passing the South Carolina Bar exam in October 2020.
In his spare time, Chris runs a website dedicated to SEC Football with his brother Brendan called Front Porch Football. Chris spends his time outside of the office coaching Mock Trial at the University of South Carolina School of Law, traveling throughout the Carolinas, and cheering on the Terriers and Gamecocks.