Automotive and traffic safety experts often refer to the period of time between Memorial Day and Labor Day as the "Deadly Days of Summer". This time period is given that name because summertime always brings an increase in accidents on our roadways. This is especially true for states like South Carolina where many tourists will be traveling into and through South Carolina on the way to vacation. The Goings Law Firm, LLC has already reported to you about two major accidents that occurred on I-26 in just the first week after Memorial Day. Both accidents had major damage and shut down the entire interstate for hours. Your can read about the Charleston I-26 accident by clicking here and the Columbia I-26 accident by clicking here.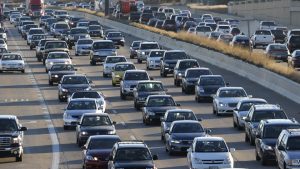 In addition to the two I-26 accidents, last week we also reported that fatal accidents are already on the rise in South Carolina. Combining the rise in fatal statistics with the already dangerous summer days ahead means that drivers should use extremely heightened caution as they take to the road this summer. The Goings Law Firm, LLC wants you to stay safe on the road this summer, and we have included a few safety tips below to help you do that.
Safety tips for drivers on the road this summer
One of the key safety tips to remember while driving this summer is to always keep your cool and remain patient. When a driver becomes impatient while in high traffic conditions, he/she becomes an "aggressive driver." Aggressive driving is major cause of deadly accidents on our roadways. So, always remember to keep your cool behind the wheel. Further, remember to look out for other dangerous and aggressive drivers behind the wheel. This is often referred to as "defensive driving", which is a fundamental key to safety on the roadway. Also, keep in mind these other safety tips while on the roadways:
Always wear you seatbelt, and ensure that all passengers are also wearing their seatbelts.
Obey all traffic signs, yield signs, and instructions.
Always use your turn signal, and give plenty notice to other drivers by signaling well before applying the breaks or changing lanes.
Keep a sharp lookout for pedestrians, especially in crosswalk areas.
Obey the speed limit.
Move over for accidents and emergency vehicles.
Give motorcycles and eighteen-wheeler trucks plenty of room.
Do not follow too closely on the highway or interstate.
Ensure all children and child seats are secured properly in the car.
Do not text and drive (It's against the law-

click here

for more).
Do not talk on the phone while driving.
Of course, this is not an exhaustive list, just some quick tips to keep you and your family safe as you take to the road. Summer is a great time to enjoy the outdoors, but keep in mind that convertibles and motorcycles pose a greater safety risk and drivers must take extra precautions when operating these vehicles.
The Goings Law Firm, LLC has also written extensively about motorcycle safety here on our website. To read more about motorcycle safety, click here.
Accidents can happen to anyone. If you are involved in an accident this summer, then contact a South Carolina Accident Attorney at the Goings Law Firm, LLC.
Even the most careful drivers can be involved in accidents because of the negligence or recklessness of other drivers on the road. If you or a loved one have been injured in an auto accident, motorcycle accident, or trucking related accident, then call Robert F. Goings at the Goings Law Firm, LLC today. By seeking punitive damages, we seek to deter aggressive driving by punishing drivers for their wrongful conduct. When you are involved in an accident, there can be many complex issues involved with a case. It is important to hire an attorney who is experienced in dealing with the many complex issues that might arise. Robert F. Goings is a skilled South Carolina Accident attorney, and will advocate on your behalf to get you the results that you deserve. Call (803) 350-9230 today for a free case consultation.
---
Last week, on March 27, 2015, an accident involving an eighteen-wheeler tanker truck and a Chevrolet sedan caused the Ravenel Bridge to be shut down for nine hours. A 31-year old woman, who was driving the Chevy sedan, caused the accident. The sedan swerved into the left lane to avoid hitting a disabled vehicle located on the right side of the road. The woman veered across two lanes of travel and sideswiped an eighteen-wheeler tanker truck. The woman was trapped in her car and she had to be freed by the fire department. She was transported to MUSC for further treatment.
The tanker truck was carrying 7,800 gallons of diesel fuel. The accident caused damage to some of the tanker's valves. As a result of the accident, the tanker leaked 300 gallons of fuel onto the bridge. It is unknown how much fuel leaked off of the bridge and into the Cooper River below. Hazmat crews and the U.S. Coast Guard were called in to help manage the pollution from the spill. The clean-up process took nine hours. Clean-up crews were battling heat exhaustion and had to work in shifts in order to clean up the spill.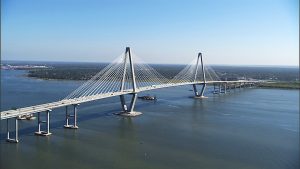 The Arthur Ravenel, Jr. Bridge is part of South Carolina's Highway 17 and U.S. Interstate 26. It connects the City of Charleston with Mt. Pleasant. The Ravenel Bridge has become a major symbol and icon for the Charleston area and it is also a major commuter route for traffic going in and out of the city. More than 75,000 cars cross the bridge daily.
Tractor-trailers and 18-wheelers, fill our nation's highways, but sharing the road with these vehicles can carry substantial risks for drivers. The size and power of these vehicles can cause truck accident to have traumatizing repercussions. When a truck is carrying hazardous or flammable materials, like Diesel fuel, the damage and injuries from an accident are often magnified even more. In fact, truck accident victims often face consequences ranging from broken bones to permanent brain damage, and in the most extreme circumstances sometimes even wrongful death.
We are South Carolina's Truck Accident lawyers. If you or a loved one has been injured in a trucking accident, then contact the Goings Law Firm, LLC today. With the help of an experienced truck accident attorney, you may be able to better hold the party responsible for the truck accident that harmed you or your loved one and get the justice you need. Call us at (803) 350-9230 today to talk about your case and learn more about what we can do for you.