On Saturday evening, June 20, 2015, a Richland County man was killed while riding his motorcycle on Leesburg Road. Another Columbia area driver, who was driving under the influence, caused the crash. Reports state that the at-fault driver has been arrested for felony DUI involving a death. The victim of this motorcycle accident leaves behind a wife and two children. To read more on this story from WIS TV, please click the link here.
The Goings Law Firm, LLC is deeply saddened by this truly terrible accident. Our thoughts and prayers are with the victim's family during this difficult time. In South Carolina, when a driver causes an accident resulting in wrongful death, there can be major criminal consequences. But, the driver can also be held responsible in civil court for the irreparable damages they have caused. At the Goings Law Firm, LLC we understand the significant suffering that a wrongful death accident can cause. Our Columbia Personal Injury Lawyers help prevent injuries as a result of tragic drunk driving accidents like this by seeking punitive damages for the gross reckless and negligent conduct of other drivers. Please contact the Goings Law Firm, LLC in Columbia today at (803) 350-9230 to discuss your case with us for free!
---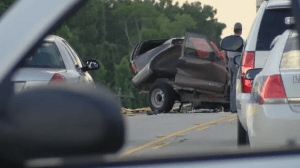 WIS News reported on Wednesday, June 10, 2015 that a deadly car accident happened on Highway 378 just outside of Lexington, S.C. The two-car accident happened when the driver of a truck lost control of his vehicle and collided with the West Columbia woman's car. The accident shut down all lanes of travel on South Carolina Highway 378. The West Columbia woman was pronounced dead at the scene while the driver of the truck was transported to the hospital for injuries sustained during the crash. The South Carolina Highway Patrol is still investigating the cause of the accident.
At the Goings Law Firm, LLC our thoughts and prayers go out to the family of the victim in this accident. We believe that nothing can ever truly prepare a family for the loss of a loved one. This tragic experience is often compounded when that loss is the unexpected result of an auto accident caused by someone else's negligence. While we realize that wrongful death is something that can never be truly justified, but when the death is the result of another person's negligence, their loved ones can often get the closure and sense of justice they need by holding that party responsible in a wrongful death lawsuit. Robert F. Goings and his staff at the Goings Law Firm, LLC are here to help you through this difficult time and are experienced in helping your family navigate the complexities of a wrongful death suit. To find out how we might be able to defend your rights and seek the justice, closure, and compensation you need after losing a loved one, call (803) 350-9230.