The Goings Law Firm, LLC is pleased to announce that Horry County Schools have agreed to pay $260,000.00 to a Horry County School Board Member who was injured in a trip and fall due to defective and unsafe steps at the district office.  The steps violated several state and federal safety codes in failing to have required hand rails.  Our firm was successful in proving that several prior employees of the school district had fallen due to the lack of hand rails.  The victims of the prior falls and injuries had requested the administration add safety railings.   The safety railings would have prevented the prior falls.  Unfortunately, it only after our client fell and sustained severe injuries that the Horry County School system chose to do anything to fix this code violation.  Below is a picture of the location where our client fell only after hand rails were installed:
The fall resulted in a severely broken arm and extensive reconstruction surgery.  Here is an x-ray of our client's arm after surgery showing extensive metal hardware plates and screws.
This injury was completely preventable if Horry County Schools would have installed the required handrails.  The school system had prior notice of the defective condition and prior injuries in this location, but did nothing about it.
Injuries that result from preventable falls caused by trips or slips at businesses or public property give rise to civil liability, allowing for financial compensation to cover medical bills, loss of enjoyment of life, pain and suffering, and loss wages and earnings.   If you or a loved one have suffered injuries due to a property owner violating safety code requirements or failing to properly construct or maintain pedestrian traffic areas of ingress and egress, please contact us today at 803-350-9230 for a free, no obligation, consultation. We are happy to explain your legal rights and represent you if the need arises.
This settlement was featured in Horry County's the  The Sun Newspaper.  Here is the article:
—
Horry County Schools to pay $260k settlement to board member injured on property
Horry County Schools will shell out hundreds of thousands of dollars after voting to settle a lawsuit brought by one of its own board members.
The district's school board voted unanimously Monday to pay $260,000 to settle a 2019 lawsuit from board member Sherrie Todd, who represents district 2 covering parts of Myrtle Beach and Carolina Forest. Todd's suit alleged she suffered a serious fracture to her arm that required three surgeries after she fell on the stairs leading to a school board meeting in 2017.
Ahead of the vote, the school board received legal guidance in executive session, where matters aren't made public. Todd recused herself from executive session during the discussion on the lawsuit and abstained from voting.
The lawsuit alleges the spot where Todd fell should have had a railing, and there was no other entrance for Todd to access the door where she was attempting to enter. The district knew or should have known about the safety hazard, according to the lawsuit, which also says at least two other people have been seriously injured on the same stairs. The district denied these claims in its response, The Sun News reported at the time the lawsuit was filed.
Todd declined to comment on the settlement.
Todd's injuries were a result of "her own negligence, carelessness, gross negligence, recklessness, willfulness and wantonness," the district initially responded, arguing she failed to look where she was walking and wore inappropriate shoes. Last week, Todd had offered to accept a $300,00 settlement from the board, court records show. She also attempted to get workers' compensation for her injuries, but the district opposed that, asserting she was a board member, which differs from a district employee. The two parties were set to go to trial last month, but the date was delayed so the two parties could attempt to settle out of court, records show.
Read more at: https://www.myrtlebeachonline.com/news/local/education/article254943557.html
---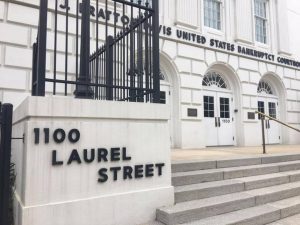 Columbia trial attorney Robert Goings successfully secured a $750,000 verdict on behalf of a law clerk who was injured when he fell on an excessively slippery staircase inside the U.S. Bankruptcy Court building in downtown Columbia. The individual, a law clerk for a federal bankruptcy judge, suffered a herniated disk and accrued $40,000 in medical bills, as well as additional and lasting pain from the injury.
Crockett Facilities Service, the Maryland-based company responsible for maintaining the courthouse, ultimately admitted responsibility, especially when it was revealed that the company had removed slip-resistant strips from the stairs and had polished the staircase immediately before the accident. Attorney Goings following the settlement had this statement: ""In any case, we are very pleased with the outcome. Most falls are preventable, and in this case, all Crockett had to do was buy a strip that only cost $1 or $2. It's a mistake that cost them $750,000."
For more information on this settlement, read The State article, and if you have been injured in an accident, make sure to contact The Goings Law Firm for the right representation for your claim. There is a reason why people turn to Robert Goings in their time of need, so contact us to find out why.